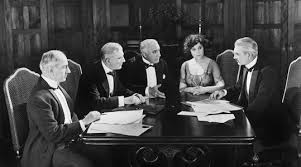 Add Your Heading Text Here Business transformation programs have long focused on productivity enhancements —taking a "better, faster, cheaper" approach to how the enterprise works. And for good reason: disciplined efforts can boost productivity as well as accountability, transparency, execution, and the pace of decision making. When it comes to delivering fast results to the bottom line, it's a proven recipe that works.
The problem is, it's no longer enough. Artificial Intelligence enabled disruption are upending industry after industry, pressuring incumbent companies not only to scratch out stronger financial returns but also to remake who and what they are as enterprises.
Doing the first is hard enough. Tackling the second—changing what your company is and does—requires understanding where the value is shifting in your industry (and in others), spotting opportunities in the inflection points, and taking purposeful actions to seize them. The prospect of doing both jobs at once is sobering.
How realistic is it to think your company can pull it off? The good news is that AIQRATE can demonstrate that it's entirely possible for organizations to ramp up their bottom-line performance even as they secure game-changing portfolio wins that redefine what a company is and does. What's more, AL led transformations that focus on the organization's performance and portfolio appear to load the dice in favor of transformation results. By developing these two complementary sets of muscles, companies can aspire to flex them in a coordinated way, using performance improvements to carry them to the next set of portfolio moves, which in turn creates momentum propelling the company to the next level.
Strategic Steps towards AI led Transformation:
This aspect covers AI led "portfolio-related" moves. The first is active resource reallocation towards building AI led transformation units, which I define as the company shifting more than 20 percent of its capital spending across its businesses or markets over ten years. Such firms create 50 percent more value than counterparts that shift resources at a slower clip.
Meanwhile, a big move in programmatic M&A driven by AI led spot trending—the type of deal making that produces more reliable performance boosts than any other—requires the company to execute at least one deal per year, cumulatively amounting to more than 30 percent of a company's market capitalization over ten years, and with no single deal being more than 30 percent of its market capitalization.
Making big moves tends to reduce the risk profile and adds more upside than downside. The way I explain this to senior executives is that when you're parked on the side of a volcano, staying put is your riskiest move.
AI led Transformations that go 'all in' by addressing both a company's performance and its portfolio yield the highest odds.
The implication of these transformation stories is clear: approaches that go all in by addressing both a company's performance and its portfolio yield the highest odds of lasting improvement. Over the course of a decade, companies that followed this path nearly tripled their likelihood of reaching the top quin tile of the AI transformation power curve relative to the average company in the middle.
Play to win with AI
Life would be simpler if story ended here. However, you're not operating in a competitive vacuum. As I described earlier, other forces influence your odds of success in significant ways—in particular, how your industry is performing. Research studies have indicated that companies facing competitive headwinds would face longer odds of success than those with tailwinds.
Companies that combined big performance moves with big portfolio moves (including capital expenditures, when not the only portfolio move employed) saw a big lift in their odds. Life is still challenging for these companies—their net odds are dead even—yet this is superior to the negative odds of the other situations.
Winning thru competitive advantage with AI
In an improving industry, the returns to performance improvement are amplified massively. This runs contrary to the very human tendency of equating performance transformations with turnaround cases
The takeaway from all this is that two big rules stand out as commonly and powerfully true whatever your context: first, get moving with AI , don't be static; second, go all in if you can with AI led transformation programs —it's always the best outcome (and also the rarest).
Running the AI led transformation program
In my experience, the companies that are most successful at transforming themselves with AI ,sequence their moves so that the rapid lift of performance improvement provides oxygen and confidence for big moves in M&A, capital investment, and resource reallocation. And when the right portfolio moves aren't immediately available or aren't clear, the improved performance helps buy a company time until the strategy can catch up.
To illustrate this point, consider the anecdote about Apple that Professor Richard Rumelt describes in his book, Good Strategy/Bad Strategy. It was the late 1990s; Steve Jobs had returned to Apple and cleaned house through productivity-improving cutbacks and a radically simplified product line. Apple was much stronger, yet it remained a niche player in its industry. When Rumelt asked Jobs how he planned to address this fact, Jobs just smiled and said, 'I am going to wait for the next big thing.'
While no one can guarantee that your "next big thing" will be an iPod-size breakthrough, there's nothing stopping you from laying the groundwork for a successful AI led transformation. To see how prepared, you are for such an undertaking, ask yourself—and your team—the following five questions. I sincerely hope they provoke productive and transformative discussion among your team.
1.Where is the new business value chain that's driven by AI
Achieving success with big, portfolio-related moves requires understanding where the business value flows in your business and why. The structural attractiveness of markets, and your position in them, can and does change over time. Ignore this and you might be shifting deck chairs on the Titanic. Meanwhile, to put this thinking into action, you must also view the company as an ever-changing portfolio. This represents a sea change for managers who are used to plodding, once-a-year strategy sessions that are more focused on "getting to yes" and on protecting turf than on debating real alternatives. Get high-powered decision-making algorithms to navigate you thru this transformation.
2. Put your money in building an AI led strategy
Only 10% of the US fortune 200 companies have AI led strategy; this is an impending strategic aspect that cannot be ignored. The dimensions of reimagining customer experience, building innovative products and services and transforming the businesses need to have an AI led strategy move by the CXOs
3.Are you ready for disruption?
Increasingly, incumbent organizations are getting to the pointy end of disruption, where they must accelerate the transition from legacy business models to new ones and even allow potentially cannibalizing businesses to flourish. Sometimes this requires a very deliberate two-speed approach where legacy assets are managed for cash while new businesses are nurtured for growth.
4.Will our company take this seriously?
Embracing AI led transformative change requires commitment, and gaining commitment requires a compelling change story that everyone in the company can embrace. Philips recognized this in 2011 when it launched its "Accelerate" program. Along with productivity improvements and portfolio changes (including a big pivot from electronics to health tech), the company shaped its change story around improving three billion lives annually by 2030, as part of a broader goal of making the world healthier and more sustainable through innovation. Massive thrust and investment was laid by Phillips leadership team on AI led transformation programs.
5.Is the leadership ready for the transformation?
Leading a successful AI led transformation requires a lot more than just picking the right moves and seeing them through. Among your other priorities: build momentum, engage your workforce, and make the change personal for yourself and your company. All of this means developing new leadership skills and ways of working, while embracing a level of commitment as a leader that may be unprecedented for you.
In the end, AI led strategy for transformation is a process and start of a journey …. embrace it or feel the heat of leaving behind. The new age competition is agile and nimble and AI led transformation strategy is a right move to thwart the competition.