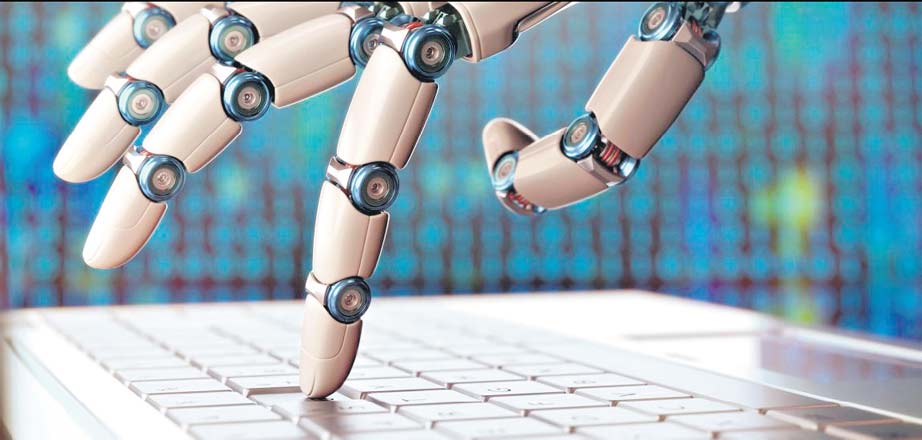 Add Your Heading Text Here Artificial intelligence is fast making its way into mainstream education. I do not infer as part of the standard technical curriculum. But several schools, colleges, universities and other academic institutions are adopting AI in the process of delivering impactful education to students and their numbers are rapidly increasing.
Across the world, we are seeing AI augmentation in different facets of the education system – from automating routine tasks that teachers have to perform to crafting personalised education curriculum that is line with a student's aptitude and areas of interest.
The education sector in India suffers from deep-rooted challenges that need wholesale solutions. The bulk of our students is compelled to go through archaic pedagogical methods that are employed to deliver static and outdated curricula.
For a while now, Bill Gates and other tech stalwarts have been excited by the idea of infusing AI into the education system. Bill Gates calls this bouquet of technology-driven, impactful delivery of coursework as 'Artificially Intelligent Tutoring Systems' and hopes that it leads to better internalisation of course content. This column shares some of the areas where AI can leave its mark on the education system and revolutionise the way the next generation of students learn.
Freeing up Teacher's Time
Teachers are burdened with several menial, low-value tasks that are ripe for an AI augmentation. These tasks neither deliver better learning outcomes nor improve student experience. The time our teachers spend performing hygiene activities – from taking the attendance of the class, evaluating and grading tests and assignments and performing peer reviews – is enormously wasteful.
The time spent by teachers can be easily unlocked through AI, helping them focus on what they do best – teaching and coaching for success. Bringing in AI into the core way-of-working of schools today will help eliminate these burdensome tasks in the following ways:
• By curating tests for students automatically based on the aptitude of students in the classroom. Rather than relying on teachers to conjure up questions in the classroom, AI can help tutors assess the learning level of students and contextually bring up questions. Teachers will be able to administer tests much more easily by using a gradational question bank powered by AI
• Grading the administered tests and assignments. This is another time-consuming and often low-value task that can easily be taken up by AI administered-tests. AI can help automate the repetitive task of grading tests, thus helping teachers focus more on how they can create a better platform for learning by coaching and solving questions from students. AI-graded tests can also help bring up commonly occurring patterns of errors (ie, are students mainly making the same mistakes?), in effect providing input to teachers on which lesson plans require more impetus in the next class
• Ease out repetitive administrative tasks. Teachers also spend hours over the year submitting periodic reviews to their supervisors and coordinators, taking attendance and peer reviewing the efficacy of other teachers. This workload can also be supported by AI – by maintaining automated attendance logs, summarising the test scores of students and reporting the performance of teachers
Curricula, Content Planning
The present-day curricula delivery process is largely inefficient. The current paradigm requires a teacher to deliver pre-designed, standardised content to a classroom full of students with diverse aptitudes and interest levels. The negative impact of current pedagogical methods can still be manifested through the employability score of the current generation.
By leveraging the variegated applications powered by AI techniques, academia will not only be able to deliver more personalised curricula and lesson plans but also improve students' understanding and retention of the coursework, leading to an improvement in educational outcomes. Here are a few examples of how we can enable those:
• AI can be instrumental in creating a culture of continuous improvement among teachers. By tracking their performance across different key metrics, the educational system will be able to uncover the areas where teachers need support and coaching more effectively. AI can also help curate the coursework for teacher improvement, thus making sure that teachers are continuously updated and can continuously refine their craft
• By infusing AI into the skills and aptitude assessment process for students, schools will be able to better judge the current level of understanding among students for a particular subject area as well as where their innate inclinations lie. Often, students are unclear or unsure about how they can make the most of their talents and how they can channel them into a trade. AI can help schools map out the data of previous students, their career achievements and tie that back to educational research. This will allow schools to accurately predict the subjects for which a student has a natural inclination and then coach her in that direction
• AI can also use data around student attention, interest combined with their aptitudes and abilities to recommend customised coursework. This will help students build a structured career path. This AI-centric approach will foster personalised training pathways and provide students with the skills needed to succeed in their future professions, rather than burdening them and staggering their confidence as the current system does
Optimising Classroom Experience
To fully unleash the creativity and expertise of teachers, the education system needs to also imbue AI-led applications in the classroom on a day-to-day basis. This will enable teachers to work at full throttle. Time spent on minding students and reorienting classroom methods to ensure better student engagement can be saved by using AI in the following ways:
• AI can help improve the tracking of students' attention levels and help teachers intervene before a student loses interest in the classroom content. While teachers are conversant in minding students that actively disrupt the classroom, engaging students who are quietly inattentive is a comparatively difficult task. By employing attention tracking devices, teachers can much easily monitor the attentiveness of the class and mind them before they tune out
• By aggregating the attention scores of the classroom, AI can help teachers devise a more potent mix of teaching, testing and activities – to continuously ensure better class performance and engagement
AI can bring a plethora of benefits to the education system at large, providing improved educational outcomes to all stakeholders – students, teachers and parents. Through personalised curricula, improved efficiency in the time management for teachers and effective in-class monitoring and assistance, AI can shift the paradigm of how the education system works and how coursework is consumed and leveraged by the next generation of students.