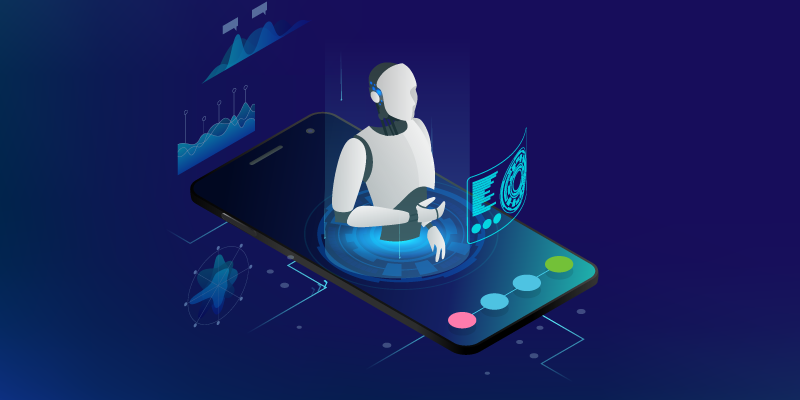 Add Your Heading Text Here Why AI in construction?
Of all the game-changing innovations driven by technology and artificial intelligence in the world today, the potential of one key sector remains untapped – the construction industry.
According to McKinsey, the engineering and construction sector globally is valued to be worth $10 tn per year. While that is a respectable size, the construction industry overall has largely been slow in the uptake of inventions in the technology arena. In fact, several construction business houses in India tend to be family-owned and extremely traditionally-run, and have tremendous inertia in embracing new age technologies. 
However, the past few years is seeing a change in the way construction firms operate. With well-funded global start-ups such as WeWork entering the fray with an AI and analytics forward approach to real estate development; industry incumbents need to up their game in order to stay relevant. While McKinsey expects the permeation of AI in the construction industry to be modest right now, it does represent an opportunity for early adopters to catch the bull by the horns and build a sizeable competitive advantage. Those from this industry that have a ponderous and slow uptake of new technology will surely be eaten up by their competitors. Through this article, we explore some artificial intelligence interventions that can be transformative for the construction and real estate industry at large.
Image recognition for managing risk, safety and quality
The construction industry would do well to adopt these techniques and apply them to manage risk and worker safety. Working conditions in the construction industry for labourers tend to be managed mediocrely at present. We hear of numerous cases of mortality and severe injuries where workers do not follow established safety procedures. Other cases also include unsafe working environments where certain infrastructure in overall construction projects are unsafe for human work.  
Construction companies could employ drones to capture images and videos of their construction sites on a continuous basis. By applying deep learning and other AI techniques, firms would be able to identify unsafe workplace behaviour as well as unsafe working environments and run training interventions to improve the safety quotient of their workplaces.
Continuous design optimisation
Construction activity has largely been seen as a waterfall-like process where all the designs, construction materials and their feasibility are evaluated at the start of the project. While this is undoubtedly a watertight approach to construction, it does cause delays in planning, leading to lost revenue opportunity in the near term. 
Today, with data readily available for analysis, AI can help continuously optimise the design of each project. A recommender system-like approach would help contractors and engineers identify the right design as well as the materials required to execute it. Additionally, AI-powered technology could also help recommend architectural finishes based on the proposed design – thus enabling construction firms to finalise the design and material requirements early in the schedule, and finish construction faster.
Increasing talent retention and development
The construction sector is remarkably disorganised and heavily relies on contract labour for executing a project. While minor, the cost and time involved in fulfilling positions left by ex-labourers and training new entrants really adds up and reduces the overall efficiency in project management. In India, contract labour can often also be seasonal, with numerous workers migrating to their hometowns in droves leading to longer gestation periods for projects. 
AI has been applied to talent retention and talent development use cases in multiple industries, and the same can be applied to the construction industry with relative ease. With unsupervised machine learning algorithms, contractors and their parent companies will be able to forecast talent shortage accurately, and plan to backfill labour resources efficiently. AI can also enable improved labour retention strategies by recommending best options for ensuring improved talent retention and availability.
Project schedule optimisation
Construction projects are typically long drawn with a sizeable period elapsing between envisioning the project to having it commercially ready. In this period, we often see many niggles with respect to the project schedule. Overuse of materials, time-consuming nature of restocking, people availability issues – all these can throw the overall project plan into disarray. 
Preventive maintenance through AI
Maintenance in the construction industry happens largely at two levels. Firstly, it is the maintenance of a partially and incrementally developing property. The second is when the builder organisation is responsible for the continuing maintenance after it has been leased out to tenants. At both levels, maintenance can be a hugely cumbersome and time-consuming activity, albeit critical, that the construction company must perform in order for operations to move smoothly. 
We live in a world of sufficiently advanced technology and AI can complement human effort in the process of preventive maintenance. By using sensors and cameras as the data capture layer, and applying machine learning algorithms over the data, facility managers can monitor their property with greater ease and identify guided interventions on where maintenance activity is required. Using this data can be doubly productive as it will provide the system inputs on when routine maintenance activity for all the working components of a modern property are required, and schedule accordingly. 
A technology-driven paradigm shift is fast coming for the construction industry. As things stand right now, the industry employs close to 7 percent of the global labour workforce. The strong uptake of infrastructure projects notwithstanding, the sector has grown only 1 percent per year for the past decades – with a flatlining per worker productivity, incumbents would do well to embrace the wave of Artificial Intelligence to power their next phase of growth. Using AI techniques, engineering and construction industry giants would be able to accelerate productivity, increase business efficiency and bring a much-needed technology facelift to the industry.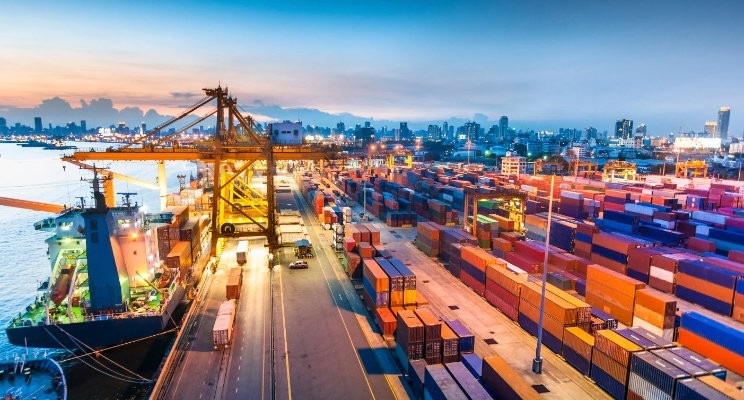 Add Your Heading Text Here Rapidly evolving technology and a digitally focused world have opened the door for a new wave of automation to enter the workforce. Robots already stand side-by-side with their human counterparts on many manufacturing floors, adding efficiency, capacity (robots don't need to sleep!) and dependability. Add in drones and self-driving vehicles and it's no wonder many are questioning the role of humans going forward.
Supply chains, although automated to a degree, still face challenges brought about by the amount of slow, manual tasks required, and the daily management of a complex web of interdependent parts. The next generation of process efficiency gains and visibility could be on your doorstep with artificial intelligence in supply chain management, if only you'd let the robots automatically open it for you.
Robotic Process Automation
RPA works by automating the end-to-end supply chain, enabling the management of all tasks and sections in tandem. It allows you to spend less time on low value, high frequency activities like managing day-to-day processes, and provides more time to work on high value, exception-based requirements, which ultimately drives value for the entire business.
PwC estimates businesses could automate up to 45% of current work, saving $2 trillion in annual wages. "In addition to the cost and efficiency advantages, RPA can take a business to the next level of productivity optimization," the firm says. Those 'lights out' factories and warehouses are becoming closer to a reality.
Four key elements need to be in place for you to take full advantage of robotic process automation in your supply chain:
robots for picking orders and moving them through the facility;
sensors to ensure product quality and stock;
cognitive learning systems;
and, artificial intelligence to turn processes into algorithms to guide the entire operation.
In addition, you'll need strong collaboration internally and among suppliers and customers to tie all management systems back to order management and enterprise resource planning platforms.
Artificial Intelligence In Supply Chain Automation
AI is changing the traditional way in which companies are operating. Siemens in its "lights out" manufacturing plant, has automated some of its production lines to a point where they are run unsupervised for several weeks.
Siemens is also taking a step towards a larger goal of creating Industrie 4.0 or a fully self-organizing factory which will automate the entire supply chain. Here, the demand and order information would automatically get converted into work orders and be incorporated into the production process.
This would streamline manufacturing of highly customized products.
 Artificial Intelligence In Supplier Management And Customer Service
Organizations are also increasingly leveraging AI for supplier management and customer management. IPsoft's AI platform, Amelia automates work knowledge and is able to speak to the customers in more than 20 languages. A global oil and gas company has trained Amelia to help provide prompt and more efficient ways of answering invoicing queries from its suppliers. A large US-based media services organization taught Amelia how to support first line agents in order to raise the bar for customer service.
 Artificial Intelligence In Logistics & Warehousing
Logistics function will undergo a fundamental change as artificial intelligence gets deployed to handle domestic and international movement of goods. DHL has stated that its use of autonomous fork lifts is "reaching a level of maturity" in warehouse operations. The next step would be driver less autonomous vehicles undertaking goods delivery operations.
 Artificial Intelligence In Procurement
AI is helping drive cost reduction and compliance agenda through procurement by generating real time visibility of the spend data. The spend data is automatically classified by AI software and is checked for compliance and any exceptions in real time. Singapore government is carrying out trials of using artificial intelligence to identify and prevent cases of procurement fraud.
The AI algorithm analyzes HR and finance data, procurement requests, tender approvals, workflows, non-financial data like government employee's family details and vendor employee to identify potentially corrupt or negligent practices. AI will also take up basic procurement activities in the near future thereby helping improve the procurement productivity.
Artificial Intelligence in new product development
AI has totally overhauled the new product development process.by reducing the time to market for new products. Instead of developing physical prototypes and testing the same, innovators are now creating 3D digital models of the product. AI facilitates interaction of the product developers in the digital space by recognizing the gestures and position of hand. For example, the act of switching on a button of a digital prototype can be accomplished by a gesture.
 AI In Demand Planning And Forecasting
Getting the demand planning right is a pain point for many companies. A leading health food company leveraged analytics with machine learning capabilities to analyze their demand variations and trends during promotions.
The outcome of this exercise was a reliable, detailed model highlighting expected results of the trade promotion for the sales and marketing department. Gains included a rapid 20 percent reduction in forecast error and a 30 percent reduction in lost sales.
 AI in Smart Logistics
The impact of data-driven and autonomous supply chains provides an opportunity for previously unimaginable levels of optimization in manufacturing, logistics, warehousing and last mile delivery that could become a reality in less than half a decade despite high set-up costs deterring early adoption in logistics.
Changing consumer behavior and the desire for personalization are behind two other top trends Batch Size One and On-demand Delivery: Set to have a big impact on logistics, on-demand delivery will enable consumers to have their purchases delivered where and when they need them by using flexible courier services.
A study by MHI and Deloitte found more than half (51%) of supply chain and logistics professionals believe robotics and automation will provide a competitive advantage. That's up from 39% last year. While only 35% of the respondents said they've already adopted robotics, 74% plan to do so within the next 10 years. And that's likely in part to keep up with key players like Amazon, who have been leading the robotics charge for the past few years.
 What is the mantra ?
These examples showcase that in today's dynamic world, AI embedded supply chains offer a competitive advantage. AI armed with predictive analytics can analyze massive amounts of data generated by the supply chains and help organizations move to a more proactive form of supply chain management.
Thus, in this digital age where the mantra is "evolve or be disrupted", companies are leveraging AI to reinvent themselves and scale their businesses quickly. AI is becoming a key enabler of the changes that businesses need to make and is helping them manage complexity of the constant digital change.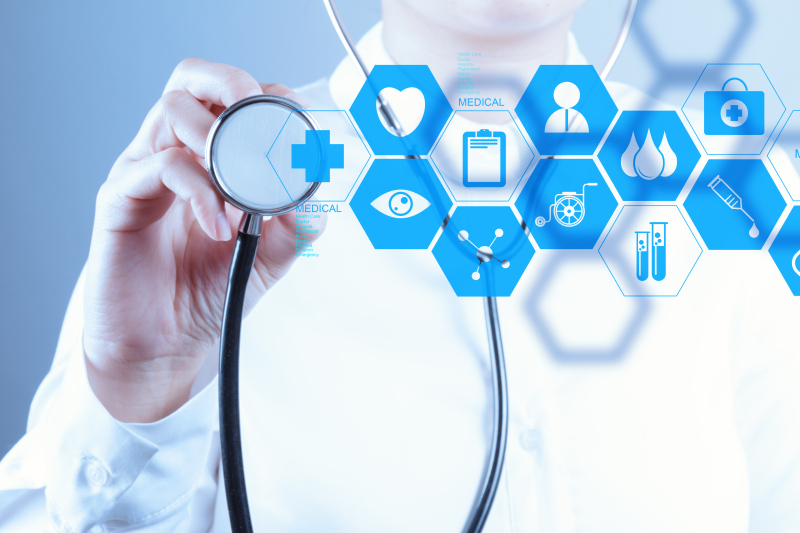 Add Your Heading Text Here In the healthcare industry, what could be more important than having better healthcare outcomes? Each and every day healthcare workers around the globe are striving hard to find more ways of improving our lives. However, the world is changing, and frankly, at a faster rate than most of us can keep up. Intuition alone will no longer be enough for quality patient outcomes. The amount of healthcare data continues to mound every second, making it harder and harder to find any form of helpful information. Big Data is not to be romanticized; it can be a blessing and a curse. It can contribute to both the insight and the fog of visibility.
In truth, data science is proving invaluable to improving outcomes due to its ability to automate so much of the heavy lifting – in fast, scalable, and precise ways. All one has to do is look at our ability to predict epidemics, advance cures, and make patient stays in hospitals safer and more pleasant. In healthcare, data science should be seen as a beneficial intelligence rather than only artificial intelligence, providing an augmentation of services to the healthcare experts already in play.
Hospital Claims Data
In 2010, there were 35.1 million discharges with an average length of stay of 4.8 days according to the National Hospital Discharge Survey. That same survey went on to note that there were 51.4 million procedures performed. The National Hospital Ambulatory Medical Care Survey in 2011 stated the number of outpatient department visits were 125.7 million with 136.3 million emergency department visits. These are some of the basic figures showing the amount of care the U.S. health care system has provided. Using Data Science to annualize this sort of data allows healthcare providers to start building a new intuition built on a data narrative that could possibly help avoid the spread of diseases or address specific health threats. Using a combination of descriptive statistics, exploratory data analysis, and predictive analytics, it becomes relatively easy to identify the most cost-effective treatments for specific ailments and allows for a process to help reduce the number of duplicate or unnecessary treatments. The power in predicting a future state is in using that knowledge to change the behavior patterns of today.
Electronic Health Record (EHR)
Interoperable electronic health records (EHRs) for patient care hold tremendous potential to reduce the growth in costs. EHRs can help healthcare organizations improve chronic disease management, increase operating efficiencies, transform their finances, and improve patient outcomes. However, EHR implementations are in various stages of maturity across the country, and their benefits have not been fully realized. One of the primary challenges healthcare decision-makers face is how to make meaningful use of the data collected, available, and accessible in EHRs.
 By optimizing the use of data accessible in EHRs, we can uncover hidden relationships and identify patterns and trends in this diverse and complex information to improve chronic disease management, increase operating efficiencies, and transform healthcare organizations' finances.
Patient Behavior and Sentiment Data
A study by AMI Research suggests that "wearables" are expected to reach $52 million by 2019. Wearables monitor heart rates, sleep patterns, walking, and much more while providing new dimensions of context, geolocation, behavioral pattern, and biometrics. Combine this with the unstructured "lifestyle" data that comes across social media and you have a potent combination that is more than just numbers and tweets.
It is obvious that we will experience huge benefits from analyzing the in's and out's of healthcare data. In my judgment, we will continue to see a push for prevention over cure which puts predicting outcomes front and center. After all, catching things in the earlier stages is easier to treat and outbreaks can be more easily contained.
It may not resonate as widely today, but in the future we will look back on data science as something significant for healthcare. It is reasonable to expect that we will likely recover more quickly from illness and injury, live longer because of newly discovered drugs, and benefit from more efficient hospital surgeries – and in large part this will be because of how we analyze Big Data.
What makes living in the era of Big Data such a delight is that the healthcare industry is being pressed to find better tools, skills, and techniques to deal competently with the deluge of patient data and its inherent insights? When healthcare makes the choice to fully embrace data science, it will change the future for everyone.
Genomics
Inexpensive DNA sequencing and next-generation genomic technologies are changing the way healthcare providers do business. We now have the ability to map entire DNA sequences and measure tens of thousands of blood components to assess health.
Next-generation genomic technologies allow data scientists to drastically increase the amount of genomic data collected on large study populations. When combined with new informatics approaches that integrate many kinds of data with genomic data in Healthcare applications such as disease research, Prescription Effectiveness etc, we will better understand the genetic bases of drug response and disease. Researchers aim to achieve ultra-personalized healthcare. As a beginning, the FDA has already begun to issue medicine labels that specify different dosages for patients with particular genetic variants.
Predictive Analytics and Preventive Measures
Prevention is always better than cure. For the health-care industry, it also happens to save a lot of money. (The Centers for Medicaid and Medicare Services, for instance, can penalize hospitals that exceed average rates of readmission – indicating that they could be doing more to prevent medical problems.)
Take, for example, the partnership between Mount Sinai Medical Center and former Facebook guru Jeff Hammerbach. Mount Sinai's problem was how to reduce readmission rates. Hammerbach's solution was predictive analytics:
In a pilot study, Hammerbach and his team combined data on disease, past hospital visits and other factors to determine a patient's risk of readmission.
These high-risk patients would then receive regular communication from hospital staff to help them avoid getting sick again.
Sinai isn't alone. In 2008, Texas Health partnered with Healthways to merge and analyze clinical and insurance claims information. Their goal was the same – identify high-risk patients and offer them customized interventions.
Meanwhile, in 2013, data scientists at Methodist Health System are looking at accountable-care organization claims from 14,000 Medicare beneficiaries and 6,000 employees. Their aim? You guessed it. Predict which patients will need high-cost care in the future.
Patient Monitoring and Home Devices
Doctors can do a lot, but they can't follow a patient around every minute of the day. Wearable body sensors – sensors tracking everything from heart rate to testosterone to body water – can.
Sensors are just one way in which medical technology is moving beyond the hospital bed. Home-use, medical monitoring devices and mobile applications are cropping up daily. A scanner to diagnose melanomas? A personal EEG heart monitor? No problem.
These gadgets are designed to help the patient, naturally, but they're also busy harvesting data.
For example:
Asthmapolis's GPS-enabled tracker, already available by 2011, records inhaler usage by asthmatics. This information is collated, analyzed and merged with data on asthma catalysts from the CDC (e.g., high pollen counts in New England) to help doctors learn how best to prevent attacks.
With

 

Ginger.io's

 

mobile application, out in 2012, patients consent to have data about their calls, texts, location and movements monitored. These are combined with data on behavioral health from the NIH and other sources to pinpoint potential problems. Too many late-night phone calls, for instance, might signal a higher risk of anxiety attack.
To improve patient drug compliance, Eliza, a Boston-based company, monitors which types of reminders work on which types of people. Smarter targeting means more compliance.
The Challenges Ahead
There are plenty of hurdles to creating a data-driven health care industry. Some are technical, some emotional. Health care providers have had decades to accumulate paper records, inefficiencies and entrenched routines. A remedy will not be quick.
And some say it shouldn't. At least, not without a hard look at patient privacy, data ownership and the overall direction of U.S. health care.