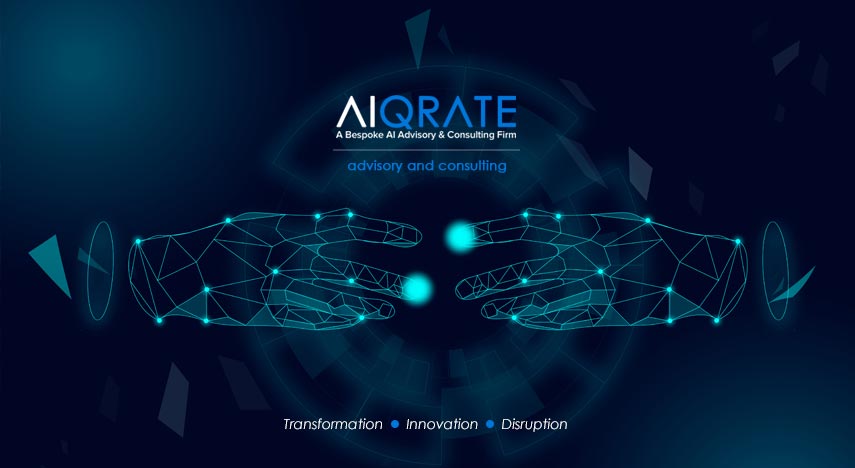 Add Your Heading Text Here A pullback of our first year journey at AIQRATE, retrospectively, it's been an exhilarating ride of conceptualizing a global advisory & consulting firm in the AI Strategy & Transformation space, A first in the genre of consulting firm. Under the aegis of transformation, innovation & disruption, we continue to help our clients on unraveling the art of possible with AI to unlock value, unleash competitive differentiation and drive scale, growth & profitability vectors. In the process, we have broken few cliched barriers and created new niche and differentiated positioning in the advisory & consulting space, here are salient highlights of our year one performance:
Consulted with Boards, CXOs & Business leaders on crafting & executing bespoke AI strategy for their enterprises, business functions & GCCs with customized AI masterclasses, roundtables, 1:1 engagement sessions & resident advisory services 
Enabled GCCs on curating bespoke AI CoE construct & AI roadmap journey for incremental evolution as well as the demonstratable value creation for the business
Galvanized Indian & global enterprises with consultation on state of the art frameworks on AI @ scale, AI powered enterprises & building blocks of AI strategy
Partnered with Cloud players, Technology behemoths, IT services firms; consulting them on creating differentiated AI capabilities, novel GTM approaches and market development scenarios
Entrenchment with PE/VC firms on embedding AI strategy in their startup portfolios for accelerated scale & hyper growth momentum
Deployed bespoke AI strategy primers, toolkits, playbooks & frameworks for accentuating business impact and value throughout for the clients
Tie-ups with Ed Tech and academic institutions as trusted AI partner & consultant
Curated India's sought after thought leadership series: AIQRATE CXO Specials covering 50 exclusive sessions with marquee leaders
Extensive participation with industry consortia – NASSCOM, CII for positioning India as a premier destination for AI
So, Do you have an AI Strategy? At AIQRATE, we can guide you on your journey of understanding what AI can do for you, embedding it within your business strategy, functional areas and augmenting the decision-making process. We are at an inflection point and being AI-ready will become a true differentiator. AIQRATE can be your strategic partner to help you prepare for what's next in order to stay relevant…Immense Thanks to all our clients, stakeholders, consultants and ecosystem players for sustained support in turning AIQRATE, a next-in class AI strategy & consulting firm. The Play's just begun…
(AIQRATE, A bespoke global AI advisory and consulting firm. A first in its genre, AIQRATE provides strategic AI advisory services and consulting offerings across multiple business segments to enable clients navigate their AI powered transformation, innovation & revival journey and accentuate their decision making and business performance.
AIQRATE works closely with Boards, CXOs and Senior leaders advising them on their Analytics to AI journey construct with the art of possible AI roadmap blended with a jumpstart approach to AI driven transformation with AI@scale centric strategy; AIQRATE also consults on embedding AI as core to business strategy within business processes & functions and augmenting the overall decision-making capabilities. Our bespoke AI advisory services focus on curating & designing building blocks of AI strategy, embed AI@scale interventions and create AI powered organizations.
AIQRATE's path breaking 50+ AI consulting frameworks, methodologies, primers, toolkits and playbooks crafted by seasoned and proven AI strategy advisors enable Indian & global enterprises, GCCs, Startups, SMBs, VC/PE firms, and Academic Institutions enhance business performance & ROI and accelerate decision making capability. AIQRATE also provide advisory support to Technology companies, business consulting firms, GCCs, AI pure play outfits on curating discerning AI capabilities, solutions along with differentiated GTM and market development strategies. 
Visit www.aiqrate.ai to experience our AI advisory services & consulting offerings. Follow us on Linkedin | Facebook | YouTube | Twitter | Instagram )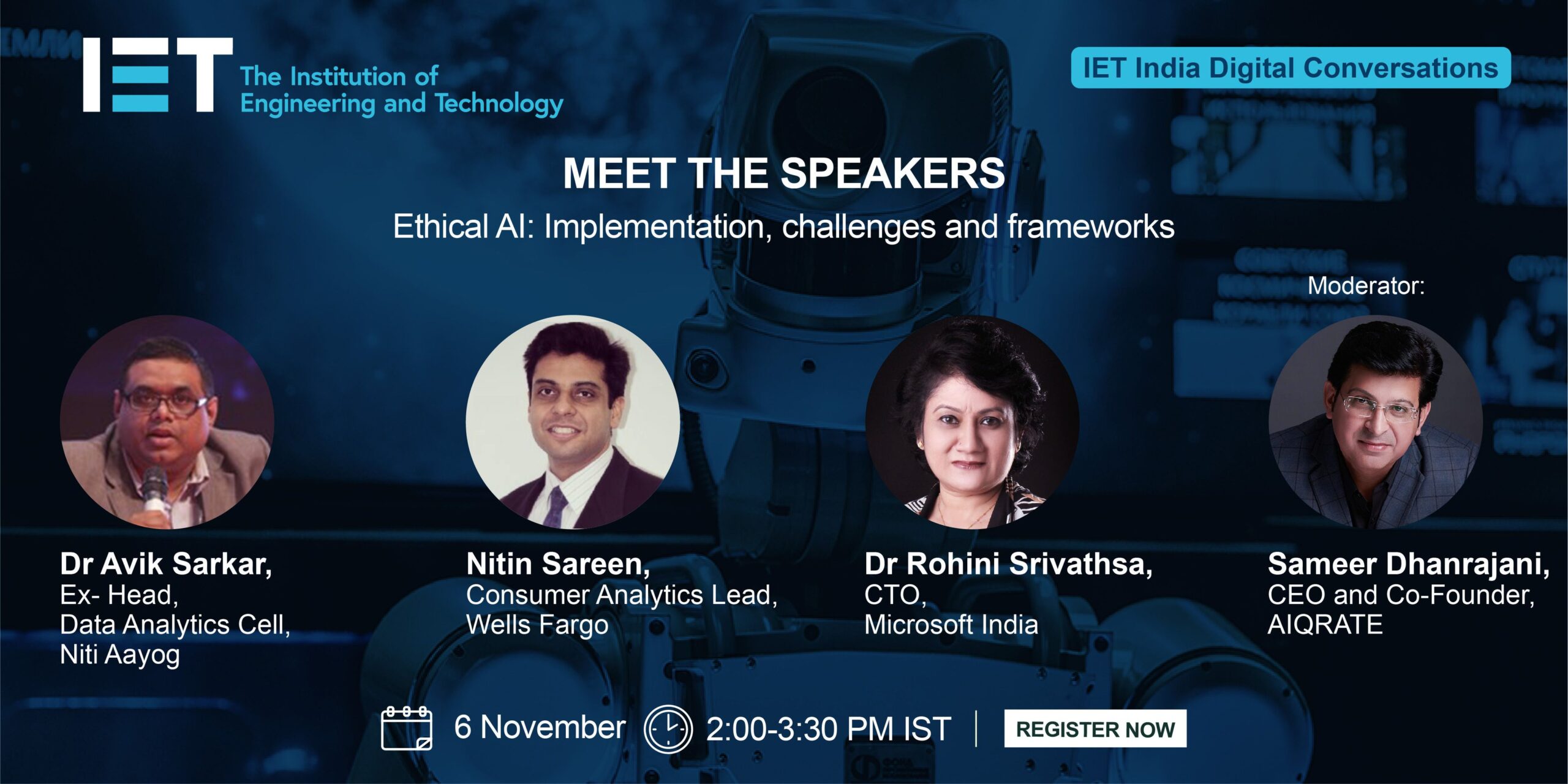 Add Your Heading Text Here Panel Discussion on Ethical AI: Implementations, Challenges & Frameworks organised by The Institution of Engineering & Technology.
November 6th, 2020 | 2:00pm – 3:30pm IST
How can AI systems work within the frameworks of human ethics? Join the experts as they demystify the need and regulatory landscape required to embed morals and ethics in AI.
Register here: https://buff.ly/3egUl4p
Speakers:
Moderator: Sameer Dhanrajani, CEO & Co-founder, AIQRATE Advisory & Consulting
Dr. Rohini Srivathsa, CTO, Microsoft India
Avik Sarkar, Ex Head – Data Analytics Cell, Niti Aayog
Nitin Sareen, Consumer Analytics Lead, Wells Fargo