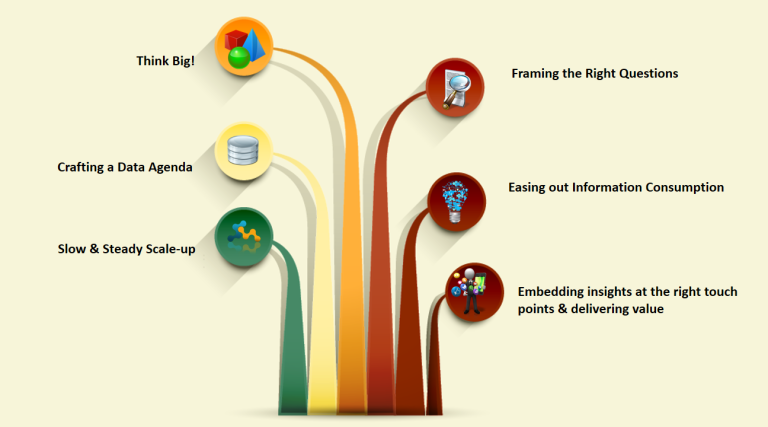 Add Your Heading Text Here
The environment today in which organizations across the globe operate in continues to grow more complex with every passing second. With innumerable choices to make, relentless pressure to deliver consistently in a time bound manner and rationalizing profit margins, the decision-making process becomes yet more daunting and convoluted. Unarguably, Analytics consistently delivers significant value – from strategic to tactical, managing top-line to bottom-line – to the organizations and business executives who use it. But senior leaders are still grappling with the question whether they are truly harnessing the fullest value from the massive amounts of data at their disposal; "dark data" sitting within their organizations in silos. Advent of newer technologies are making data collection faster than ever before, and it may seem like an overwhelming task to turn data into insights and answers that drive the strategic imperative.  Storage & computational capacities have grown by leaps and bounds, opening up doors to intelligent decision-making for varied business stakeholders, yet many organizations are still looking for better ways to obtain value from their data and compete more effectively in the marketplace. The fundamental question about how best to achieve value still boggles most of the leaders.
Is competition equipped to obtain more incisive, timely and valuable insights? Are they catching the pulse of the global economy, the marketplace, the customers & the industry much better than what we do? Do they have better foresight to unravel what happened and why it happened in the past, and are they in a much better shape to decipher their current and future state to take actions closely aligned to market realities for optimal results? What do these analytically mature organizations do differently and what sets them apart from the crowd? Have we gotten our approach and data strategy right? Have we empowered our workforce enough to effectively leverage our Analytics insights? Has it seeped in appropriately to all the downstream decision makers? Plentiful questions abound and more often than not these perennial doubts do keep bothering the senior leadership, "are we doing it the right way"?
And not so astonishingly, most of the well thought through Analytics initiatives and robust Analytics transformation journeys go for a complete toss or fail to deliver value. From lack of senior leadership buy-in to Analytics value, advanced analytics applications not being put to best of their use, or a proliferation of analytics applications that fail to deliver a unified, solid strategic direction, many companies are falling short of the value analytics can provide. No wonder leaders end up losing patience and Analytics remains to be an elusive concept to most, putting up barriers to widespread Analytics adoption at the very beginning itself. Consequently, the shutters are pulled down much before the Analytics champions get a chance to showcase even marginal business impact. All the tall claims mutually agreed upon just end up being farfetched dreams !
When businesses venture into the Analytics space and think about transforming their organization into an Analytics think tank, it's no easy ask. The way expectations are set initially, that analytics-driven insights to be consumed in a manner that triggers new actions across the organization, they must be closely linked to business strategy, easy for end-users to understand and embedded into organizational processes so that action can be taken at the right time. Now just mulling over what I just mentioned here, it's a mammoth task in itself with too many ifs and buts. Just imagine the complexity we are dealing with. Let's quickly take a high-level perspective of what kind of challenges do most organizations stumble upon, and understand the critical ingredients to a perfect Analytics recipe are:
Right problem statement where analytics could have a strong play
Right Data to begin with
A strong team of Analytics professionals (Data Cleansers, Data Visualizers, Modelers etc) with a right blend of skill sets
Senior leadership buy-in and requisite budgets
Clearing other internal toll gates
Program review framework to track progress & suggest realignment
And the biggest of them all, a drastic shift in the mindsets of business users consuming these insights, how to make the transition process seamless
Aforementioned list is just a flavor of typical roadblocks your Analytics initiative could run up against and I haven't even gotten into the finer details of spending wasteful time on Analytics tools/techniques which may not fit the bill. In a nutshell, the pitfalls are too many and as advocates of Analytics, it's imperative for us to convey the same picture to the right set of business stakeholders in the organization that Analytics may take time to deliver value. And the wait could get even longer if a structured and methodical approach is not followed here. Undoubtedly, it requires painstaking focus on the way insights are infused into everything from manufacturing and new product development to credit approvals and call center interactions.
So what truly makes certain companies so successful with analytics initiatives while others fail to get the results they are looking for? Analytically mature organizations approach business operations very differently than their peers do. Disproportionately analytic leaders are having management support and mandate for analytics throughout the organization, including top-down diktat for analytics, sponsors and champions; they are open to breeding change and accept new ideas; having a focused approach to customer experience driven by analytics; and heavily use analytics to identify and address strategic threats to the organization. On a specific note, they deploy analytics across widest range of decisions, be it large or small. There's a high correlation between organizational performance and analytics-driven management, and Analytics forms the key to all performance related aspects, be it seeking growth, efficiency or competitive differentiation.
The path to realizing value out your Analytics efforts and investments is a long-drawn process. But still, how can organizations bring down the time-to-value for analytics? How can you avoid common pitfalls which may derail the Analytics intent your organization set out with? Analytics value creation can be achieved during the initial budding phases on the path to analytics sophistication. Contrarian to common assumptions here, it doesn't require the presence of perfect data or a full-scale organizational transformation and small pilots to convey value should suffice. After initial successes, snowballing effect shall come to rescue.
Think Big!
Does targeting the biggest challenge of all imply setting stage for big failures? Not always! Remember higher stakes command top management attention, appropriate investment, attracts best of the breed talent and incite action. Hence, focusing on the biggest and highest-value opportunities may not be that bad an idea. Don't pick insurmountable problems though and ensure focus on achievable steps.
Framing the Right Questions
More often than not organizations are tempted to start the data assimilation process, way before they kick-start their analysis. A lot of valuable time & effort is spent in aggregating this data across various departmental silos, cleansing, harmonization, conversion etc. leaving little time for actually thinking through the intent of analyzing the data, and uncovering potential uses. To get optimal results, the idea should be start carving out the insights and questions which need to be answered to meet the bigger business objective rather than jumping on getting the data pieces together. Such an exercise at times can illuminate gaps in the existing data infrastructure and business-as-usual processes.  Data-first strategy could mean lot of unintended rework, approaching a dead end towards the later stages and may be budget overruns in case additional resources are to be pooled in.
Easing out Information Consumption
In the end, the consumers of insights are the business users.  In that case, the Analytics team may have to don the hat of a business stakeholder and be able to represent information in a meaningful way which sees direct applicability to their audience. Ability to convey the story in effective manner, figuring out better ways to communicate complex insights is crucial so that users can quickly absorb the meaning of the data and take appropriate actions. Leveraging numerous visualization and reporting tools can simplify insights, make results more comprehensible & easier to act upon. They can transform numbers into information and insights that can be readily put to use, versus having to rely on ambiguous interpretations or leaving them unused due to uncertainty about how to act.
Embedding insights at the right touch points & delivering value
With the proliferation of analytics applications and tools, embedding information into existing business processes, workflows etc is a lot more streamlined. For e.g. insights from your location analytics tools can easily be superimposed over existing maps-based applications deployed at the Salesforce level to help them plan out their routes optimally. Oil exploration companies can easily embed the production or pipeline information into their existing enterprise-level systems for informed decision-making around the next best drilling site. Such innovative ways have to be through to make consumption of complex Analytics insights a lot easier across the organization. Point to note here is that, putting together a new system for consuming Analytics insights could mean a drastic cultural shift for the business users, and high resistance to change in such cases could lead to failures. If somehow these insights could be seamlessly infused into existing apps/tools or processes would mean smoother transitioning & better outcomes due to increased adherence.
Slow & Steady Scale-up
As the business mature on the analytics front over time, data-driven decision making slowly starts spreading its wings across the organization. And as the Analytics experience and usage grows, the value analytics can deliver grows multi-folds, enabling business benefits to accrue much faster than originally imagined. Not all functions/LOB's/departments are at an equipotential when it comes to Analytics maturity. Business functions like finance and supply chain are inherently data intensive and are often where analytics first makes its mark. Harping on the early successes, organizations can begin expanding analytics reach to other units. Crafting reusable assets which could be repurposed, with slight modifications by other units could speed up the transformation process.
Crafting a Data Agenda
Dealing with disparate sources of information, sitting in silos across the organization, in varying formats & structures, and churning out divergent insights can be a daunting task and also convey a highly convoluted, incomprehensible picture at times. The data agenda should provide a high-level roadmap that aligns business needs to growth in analytics sophistication as the organization matures along the way.  It should be flexible enough to keep pace with the changing business priorities and must have clearly stated guidelines or frameworks to aid transforming data into a strategic asset; data which is integrated, consistent and dependable enough. Data quality & effective governance processes can be set up to ensure seamless assimilation and healthiness of data being put to greater use. Even though, you tread down the analytics path with the biggest organizational challenge, start putting the data pieces together which deliver insights & get you closer to the actual solution,  but  then how this data foundation crafted aligns with the overall data agenda is crucial. Comprehensiveness of the data agenda builds up the requisite momentum to deliver meaningful nuggets of information across disparate systems organization-wide. Eventually the data agenda is at the very core of any analytics initiative, ensuring the "right piece of information" reaches out to the "right stakeholders", with the "right set of business priorities" at the "right time".
To expedite the process to path to value, start by identifying big business issues which would garner the right management attention and resources for execution, carefully cherry-pick challenges for which you see Analytics as the key enabler, taking into account the foreseeable changes in the operating ecosystem as you go along. Riding on assets capabilities already inherent to the organization, the core strengths, is the key and creating reusable components can help scale up fast to increase reach. And the most important of all, keep embedding insights generated at every step into existing business processes to deliver continuous business impact and monitor change.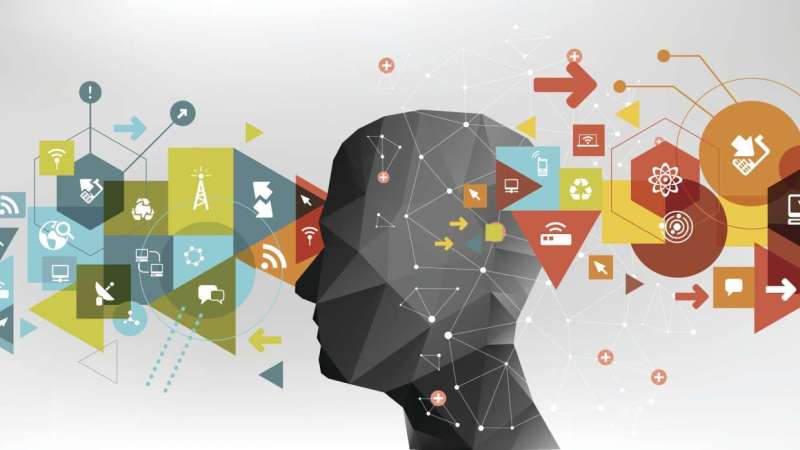 Add Your Heading Text Here Organizations across the globe today are grappling with a data deluge and with the increasing reliance on mining data to carve out actionable insights and drive strategic imperatives, the relevance of building the right ecosystem of Analytics professionals is becoming commonplace. Qualified analytics professionals are scarce, though in great demand and generally command higher salaries than the industry normal because of their specialized skills.
For most, analytics is still in the realms of software tools and creating highly visual dashboards/reports/charts etc. But there's definitely more to it than what meets the eye. Analytics has lot more to than just jazzing up data; it can enable fact-based business decisions based on that data. It primarily means working closely with the business stakeholders to uncover gaps in the business and using the knowledge to work with data appropriately, to come up with useful insights and recommendations the organization can focus on, to increase top-line or rationalize costs at a high level.
And many a times, the general perception about great talent directly correlates to the pedigree of an individual. Most organizations, especially in analytics space, are extra careful about their hiring channels when it comes to onboarding Analytics talent. And more often than not, we are generally biased to absorbing talent which has a strong pedigree credentials (academic excellence, b-school or t-school grade or tier et al) and fall prey to such generalized notions about building great teams. Unfortunately, Analytics is a different ball game altogether and successful career in Analytics has more to do with the underlying fundamental behavior of an individual. It's an interplay of multidisciplinary skills ranging from mathematics, to statistics, computer science, communication and not to mention the business knowhow. Pedigree may be just a guiding beacon to highlight potential but definitely not a key ingredient to governing success. Let me shed some light on what it takes to build a successful career in analytics:
Intellectual Quotient
Successful people in the analytics industry today have that inquisitiveness and high curiosity attitude ingrained in their natural DNA. For any given situation they are presented with, they can think through and formulate the right set of questions, the "why's" "what's" & "how's" which is key to succeeding in a professional setup. Even before jumping to the data analysis piece, it's crucial to understand the business problem at hand, crafting out the specifics of the probable solution approaches and most importantly questioning the underlying assumptions being undertaken.
Especially 'big data' is more about the questions being put forward than the data itself.  No data can speak for itself unless appropriately questioned.  Success on dealing with 'big data' projects requires a thorough understanding of the problem, narrowing down the right questions, getting those answered by SME's or business experts on right forums, making sure you harness the right amount of data to answer the questions at hand and then eventually communicating the solution to the target audience (which may be clients or the internal stakeholders).
Driven by Numbers
Being accustomed to using mathematical concepts and mathematical tools is commonplace in analytics space.  Mathematics & statistics forms the basic foundation here and if for any reason this word strikes fear in your heart, think again! As you progress your career in Analytics and if you aspire to be truly a Data scientist, few additional skills shall be instrumental to your success: Machine learning, statistical modeling, experiment design, Bayesian inference, Supervised learning: decision trees, random forests, logistic regression Or Unsupervised learning: clustering, dimensionality reduction, Optimization: gradient descent and variants etc. The key aspect to note here is that most of these skills are picked up during the job or as special trainings and not directly linked to an individual's pedigree. The number-crunching attitude forms the basis here and this is something inherent to an individual irrespective of which institute or academic background they hail from.
Ability to see the Holistic picture
Data here is just a means to an end and behind the scenes there's a larger business problem at hand being dealt with. Unless there's absolute clarity on what the client is actually intending to solve, you might end up looking at the wrong place or assimilate wrong pieces of information which may not be of any use. At times, the client isn't quite sure about the problem they intend to seek answers to which may derail the whole exercise. Getting clarity on what's the root cause driving actions is crucial.
There may be too many variables under consideration at the same time, but being able to see through clearly and importantly, being able to identify the next steps based on the larger intent is imperative. For instance, if the individual is assigned a problem pertaining to pricing analytics in an FMCG industry, it is very important for them to understand the dynamics between marketing, pricing, sales, promotions etc. work in this industry before. If it's about evaluating the effectiveness of a marketing campaign for an FMCG product, domain knowledge shall help in narrowing down the key 10 or 100 variables that need thorough consideration from amongst the thousands available at disposition.
Again this ties back to our initial premise of inherent inquisitiveness of an individual to get the right set of questions framed and answered before any detailed analysis begins. Asking the "Why" questions at every juncture may help to uncover the latent objectives which client may not be articulate well in certain cases.
Orientation to Detail
Cognitive "attitude" and willingness to search for deeper knowledge about everything is a common strain running across all successful analytics professional. Though a bird's eye view is good to have to better understand the larger business problem being tackled but at the same time balancing it against the specifics which need further drill-down is crucial. While dealing with voluminous stacks of structured or unstructured data, it's easy to lose sight of specifics which be of immense value in crafting a solution to the original problem. Having that "hawk's eye" to suddenly fish out significant patterns which may be of interest to business is a must have. Visualizing data through various plotting methods (box plots, histograms, correlation matrix et al) can help uncover those meaningful nuggets which the business is interested in.
Ability to Interpret within the Realms of Business Context
End of the day, it's important to realize that numbers won't speak for themselves unless the right set of tools/techniques/methodologies are employed to present the data in a consumable form. Numerous tools in the industry today have plethora of features to simplify data interpretation but the understanding of which visualization technique is most suited to give you the right picture, given the data in question and business problem at hand is the prowess of a well-acquainted analytics professional; one who knows his toolbox in & out. In some cases histograms may deem fit to understand the distribution of data and at the same time the box plot may get you a better idea of how the majority of data points are spread across the spectrum, or if there are any outliers. Domain expertise & business knowhow can help leapfrog your analysis to a different level altogether, help interpret the results in the business context, assess usefulness of results, bringing out insights which may not be that obvious to common folks.
Communication and Visualization
You may be a champion in your rarefied field, but you may not succeed as an analytics professional unless you can't communicate the value of your analysis in simplistic terms, a language which the client or business user understands. Communicating the value to business people and asking the right set of questions on what's important is table stake. Ability to convince that what you've done is viable and will deliver business value is something one should be excelling at.
Umpteen times there are disparate pieces of information which a good analytics professional should be able to connect and able to convey a compelling story which makes sense to the target audience. As an analogy, a leading insurer was observing overall dipping sales and post analysis it came to notice that customer service in certain pockets or geographies has dwindled because of inappropriate handling of customers over certain touchpoints. The analytics team was able mine the sales data for pain points, narrow down upon the areas with stagnant or negative sales growth and also uncover pattern between unsatisfactory customer comments over social channels (FB page, twitter handle etc). Survey results again hinted that certain geographies had observed lack of customer empathy as a major factor impeding lead conversion and high attrition. Sales data, social data and survey results in totality were able to narrow down upon those specific areas of concerns mapped to respective geographies, which now the business could pursue to chart out a customer experience roadmap for targeted geographies & remedial measures to mitigate potential bottlenecks identified.
To sum it all, a pedigree can convey so much so about an individual's ability to succeed in building a thriving analytics career. It's more about those innate capabilities, domain/analytics experience one garners on the job and regular trainings which forms the secret sauce to a differentiating career trajectory in analytics.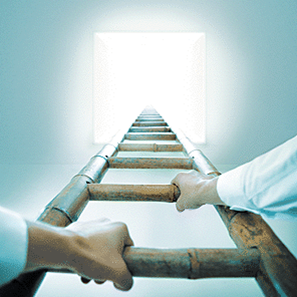 Add Your Heading Text Here Numerous studies in the past have shown that an engaged workforce significantly out-produces an unmotivated one. And even a greater number of those studies reinforce the common notion that employee creativity is the key to innovation and eventual customer or client satisfaction. To a great degree, for most industries and organizations, talent is one of the most treasured asset and to an extent a key differentiator in the marketplace. Every company needs creative team, decision makers and visionaries, but on a similar note, it's equally important to have a motivated workforce who can give their all for the cause day-by-day. As clichéd it may sound, Analytics truly is one of the industries where the average churn or attrition rate has typically been on the higher side (as compared to industry average in general) due to great demand for Analytics experts in the industry across the globe and dearth of skills required. I presume all my readers would concur on the perennial challenge of analytics talent crunch most businesses are grappling with today. And even if you find the so-called right analytics resource that align with your skills requirements, you're bound to chart out engaging career prospects and develop that talent over what could amount to a decade before that person is achieving optimum results for your company.
Analytics is all about working with an extremely talented & creative set of people, who need constant care and attention from their leaders & mentors.  And undoubtedly, most businesses yearn to maximize output and increase topline, they need to have their team working as effectively as possible. But how should they go about this? A generally accepted phenomenon that happy workers tend to be productive ones – meaning there are clear benefits to keeping people engaged and motivated.
When it comes to job satisfaction, financial rewards may be lower on the list than most people think and as I reflected in my previous posts. Being happy with the job seems to depend more on the intangibles: feeling part of a team and being valued and appreciated consistently outrank money when employees are polled about job satisfaction. It's all about keeping employees highly engaged & give them the due respect they deserve. Engaged analytics talent learns, grows, displays high leadership quotient, deliver heightened ROI and significantly decrease your organization's turnover rate. However, keeping a team that approaches work with vigor and passion intact is easier discussed than executed.
Every other company which employs analytics services or is outsourcing it wants to hire and keep the best of the breed talent – how do you stay a step ahead? Clarity on company's mission that they are driven to lead themselves is all commonplace and is a sanity in Analytics as with every other industry. And if an employee isn't engaged creativity is not present! So what truly keeps this evolved species engaged enough?
Where in the Organization your Analytics Talent sits
First & foremost, as leaders, we must acknowledge that Analytics talent is different from rest of the organizations and placing them rightly within the organization is crucial to ensure they are truly able to create the real impact. Bright minds cannot be chained or siloed or put in a bureaucratic hierarchy, lest they tend to lose their sheen and may end up attriting or be sitting ducks stuck up in the usual business stream where their skills are definitely not put to the best of use. Analytics talent should be led by analytic leaders who know this industry in & out; because they are the ones who understand how this talent needs to be groomed & nurtured, and shielded from the political bureaucracies and the analytics leaders should effectively communicate those differences throughout the organization constantly. Separate HR policies, working culture and operating rhythm is required to give these prodigies a conducive environment to deliver their best.  They should acknowledge different processes for them, they should have different technical ladders, different job expectations. It must be thoroughly acknowledged that they have different motivations and is the organization in the capacity to carve out that special niche for thriving Analytics talent. Whether you keep them together in their own close knit group so they can keep their skills sharp with constant interaction with each other, or should they be spread across company's business units because that is where they must have an impact?
It's important for your analytics talent to garner complementary skill sets. Obviously, you intend to build a team with eclectic mix of skills instead of having all people who are good at data massaging or modelling or all people who do optimizations or visualizers. Analytics is a broad space and there are umpteen specialties, and piecing together these different puzzle elements is the key to generating impactful business insights. As an analytics leader because you understand the space, you understand these specialties. So to be a good leader of such a talented team, you really have to focus on the individuals on your team and help them succeed.
Talent always needs a clear future vision on their career trajectory & growth within the organizations with distinctive career paths through career ladders and lattices. A clarity/transparency on roles, career tracks and skill expectations has to be in place to affirm that your analytics professionals have a well thought through career roadmap charted out. Structured capability building, systematic learning and development frameworks could be crucial to ensuring that career architecture plan is laid out appropriately.
A Rock-solid Training Regime
An effective training and development plan is one of the best ways to convey to your valued employees the commitment and faith you have by investing in them. And, when you consider this investment in the long run with a way higher ROI, the expense of a solid training program suddenly seems measly. With the pace the Analytics industry is maturing, it's crucial that your talent is in tune with the current needs in the industry, has hands-on experience with the topical tools & technologies and is abreast with the latest and greatest techniques being used today to deliver business impact. Just to substantiate with an example here, R being open-source has tons of pre-built libraries & many more keep getting added to the repository, avoiding duplicity of effort and ensures optimal procedures/techniques are being employed which have proven to be effective & accredited by experts in the wider public analytics community. Smart talent is always hungry for more and it's imperative for the analytics leaders to keep feeding their talent with all the trending skills/tools and keep their talent's arsenal up-to-date.
Give your talent the wings of freedom, to innovate, to be creative, basically get out of their way and empower them, give them the requisite tools to deliver. Don't keep them shielded from the real-world all the time & get them the exposure to be deeply embedded in the C-suite. The senior executives want to make decisions based on data and they trust this talent tremendously. Get them in front of the clients or the C-suite and give them the platform to talk to them directly as to what they are doing. That's what keeping them there, as they feel that they are in the driver's seat helping businesses navigate in a highly competitive, relentless environment. Highlight in appropriate forums about their achievements & the impact they have made.
Analytics professionals need to be spending a sizable time(between 6-10 years) to industry-specific challenges before they can have the right context  to understand the problem well and know exactly know what's needed & what not to go about finding a solution. This is among the scariest challenges which majority Analytics leaders across the globe are trying to figure out and still poses a big question mark for most on how to get their analytics talent a business bent of mind. Continuous exposure to the business, ongoing domain-specific trainings are hence an important ingredient to their success & keeping them relevant
Challenging Work Environment
Throw all sorts of challenges and varied projects at your talent. Be it as far away from their comfort zones & let them drown in it. This is what they truly enjoy doing and they love finding their way out from the middle of nowhere. Organize week long hackathons, competitions & give them stringent timelines to deliver. Give them the opportunity to make the impossible possible. The sense of achievement & gratification after working their way out from challenges unimagined in their wildest dreams is what keeps them going. Let them mingle up with the wider Analytics talent beyond the walls of the organization; let them participate in global competitions organized by Kaggle, 5th Elephant, VCCircle, Analytics Vidya etc. Motivate them to join interesting discussions pertaining to Analytics online (twitter, blogs, linkedin communities) and make a contribution, be an expert advisor in the area they specialize in.
Be the "Employer of Choice"
Value your talent, get them the requisite support and developmental environment from mentors & other experienced professional in your Analytics team, pay them well, recognize their contributions, and give them the opportunity to rise up the career ladder. Start collaborating with academic institutions from where you hire, increase interventions, do guest lectures, seminars, workshops, mentoring sessions, case competitions, "Shadow a Leader" program etc to be constantly engaged with your pipeline talent.