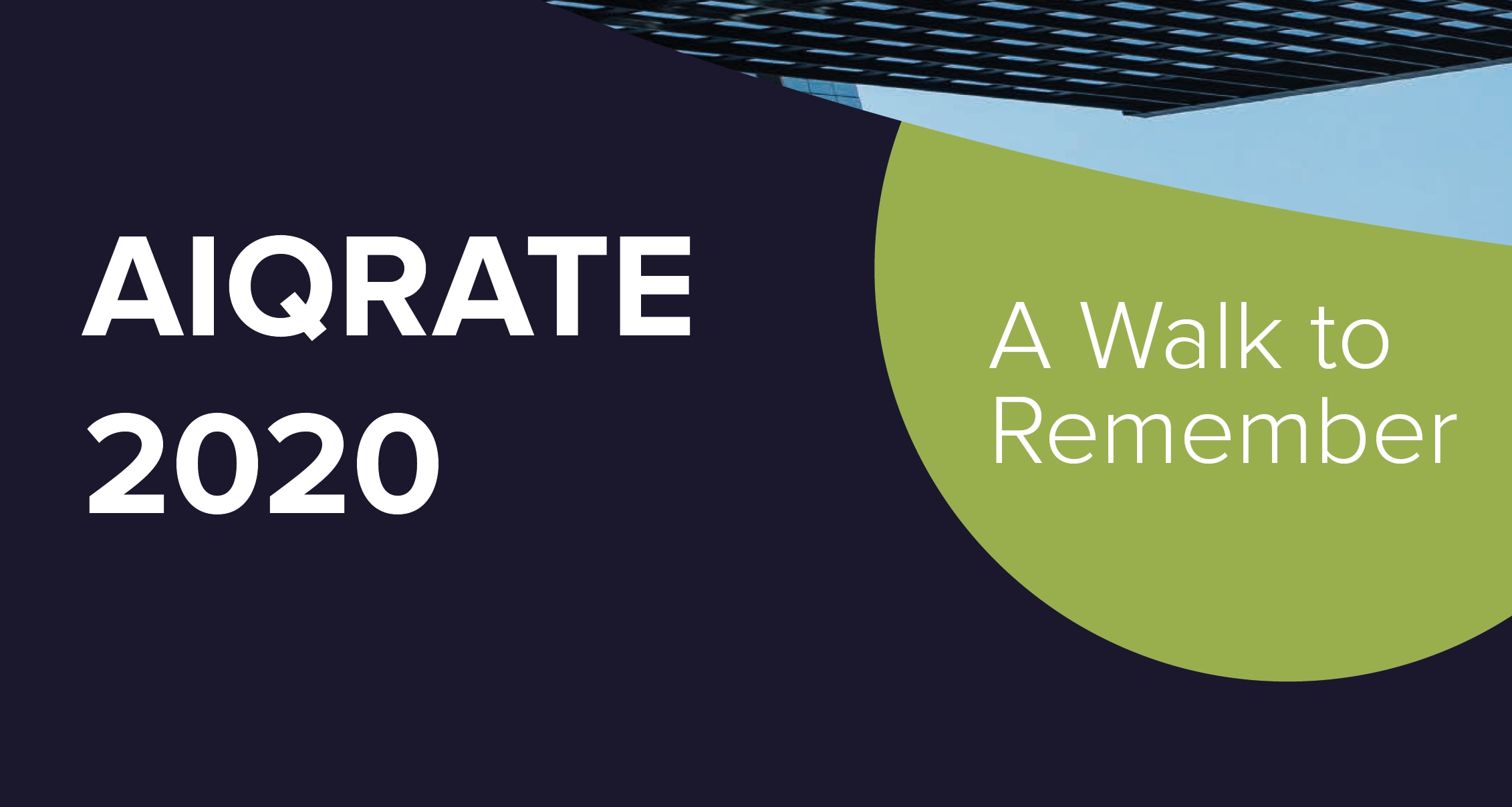 Add Your Heading Text Here "Enabling clients reimagine their decision making & accentuate the business performance with AI strategy in a transformation, innovation and disruption driven world"
In today's fast paced & volatile VUCA world, leaders face unprecedented challenges. They need to navigate through volatility while staying focused on strategy, business performance and culture.  Artificial Intelligence is fast becoming a game changing catalyst and a strategic differentiator and almost a panacea to solve large, complex and unresolved problems.  To be an AI powered organization, leaders not only need to have a broad understanding of AI strategy, they need to know how and where to use it.  AIQRATE advisory services and consulting offerings are designed to enable leaders and decision makers from Enterprises, GCCs, Cloud Providers, Technology players, Startups, SMBs, VC/PE firms, Public Institutions and Academic Institutions to become AI ready and reduce the risk associated with curating, deploying AI strategy and ensuing interventions and increase the predictability of a durable leader's success.
In the age of the bionic enterprises, AI continues to dominate the technology & business landscape.  Under the aegis of transformation, disruption and innovation, AI has several applications and impact areas which usher a new change in how we make decisions in the enterprise and personal spheres.  Traditionally, human decisions are to a large extent based on intuition, gut and historical data.  In the age of AI, several of our decisions will be taken by algorithms.  Leveraging AI, the ability to mimic the human brain and the ensuing ability to sense, comprehend and act will significantly go up and will result in emergence of augmented intelligence in decision making. Enterprises, GCCs, SMBs, Startups and Government Institutions are attempting to harness the power of AI to change the way they do business.  All these industry segments are looking at AI becoming the secret sauce behind making them gain a competitive advantage.  If you have not started yet, you are already behind the competition, however large or pedigreed you might be.
So, where are you placed on your AI journey?  At AIQRATE, we can guide you on your journey of understanding what AI can do for you, embedding it within your business strategy, functional areas and augmenting the decision-making process.
At AIQRATE, we are here to help you with the art of the possible with AI.  Through our bespoke AI strategy frameworks, methodologies, toolkits, playbooks and assessments, we will bring seamless Transformation, Innovation and Disruption to your businesses.  Leveraging our proven repository of consulting templates and artifacts, we will curate your AI strategic approach roadmap. Our advisory offerings and consulting engagements are designed in alignment with your strategic growth, vision and competitive scenarios.
We are at an inflection point where AI will revolutionize the way we do business. The paradigms of customer, products, offerings, services and competition will change dramatically; and being AI-ready will become a true differentiator.  AIQRATE will be your strategic partner to help you to prepare for what's next in order to stay relevant.
Wish you a great 2021!
Best,
Sameer Dhanrajani
Chief Executive Officer
AIQRATE
Bangalore , India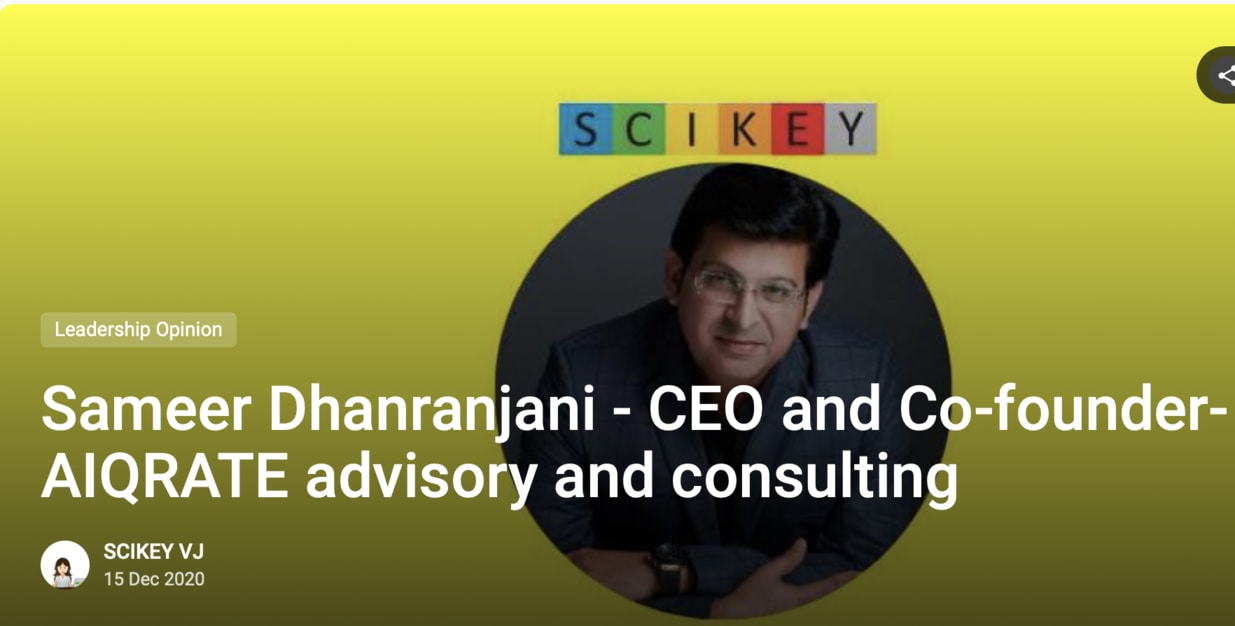 Add Your Heading Text Here In an exclusive interaction with SCIKEY, Sameer Dhanrajani, CEO at AIQRATE Advisory & Consulting, speaks about how the future of work will look like enabled by AI, and it's contribution in building productive teams and the emerging AI trends to watch out for in Post COVID scenario.
"AI led algorithms can decide on how we need to emote, behave, react, transact or interact with an individual," Sameer Dhanranjani
Sameer is a globally recognized AI advisor, business builder, evangelist and thought leader known for his deep knowledge, strategic consulting approaches in AI space. Sameer has consulted with several Fortune 500 global enterprises, Indian corporations , GCCs, startups , SMBs, VC/PE firms, Academic Institutions in driving AI led strategic transformation and innovation strategies. Sameer is a renowned author, columnist, blogger and four times Tedx speaker. He is an author of bestselling book – AI and Analytics: accelerating business decisions.
In an exclusive interaction with SCIKEY, Sameer Dhanranjani, CEO at AIQRATE advisory consulting, speaks about how the future of work will look like enabled by AI, and it's contribution in building productive teams and the emerging AI trends to watch out for in Post COVID scenario.
Mr Dhanranjani, you have consulted with several Fortune 500 enterprises, GCCs also start-ups in driving AI-led strategic transformation strategies. What according to you, are the topmost strategic considerations to weigh for managing accelerating business in Post COVID world for a start-up?
The unprecedented times of COVID-19 have brought the aspect of decision making under consideration. This includes tactical, strategic, and operational decision making that is crucial to make the venture more sustainable. Today the use of artificial intelligence is quite high amongst organizations. It can be used by start-up ventures and other outfits to make decisions irrespective of the area that needs decision making.
Most decisions that need to be made strategically are being passed on to artificial intelligence-enabled interventions. The algorithm makes similar decisions based on the previous decisions taken. Algorithms can decide how we need to emote, behave, react, transact or interact with the opposite individual This advancement in AI brings the challenge for organizations to create products and services specific to each customer through hyper-personalization and micro-segmenting. However, it can also be considered as an opportunity for organizations to emerge from the pandemic with newer business models and experiences for customers. Start-ups, especially, can make use of such advancements to reinvent and rejuvenate the organizational ecosystem.
You are known for your passion for Artificial Intelligence and are an author to the bestselling book – AI and Analytics: Accelerating Business Decisions. Tell us where how can AI be strategically significant while building productive teams.
My experience has led me to deal with engagements in the entire value chain of HR, ranging from hiring to engagement to incentivization that has leveraged using AI. It is phenomenal to see how AI can help build, engage, and sustain productive teams. AI can help in hiring through the detection emotions, facial expressions, tone modulations of the interviewee through computer vision and image classification techniques.
In the creation of productive teams, AI can gauge the engagement levels of an employee. It tries to look at the various interventions made by an employee regarding their attendance, participation in virtual meetings, and propensity to ask and engage themselves in conversations. It also keeps in check the number of pauses, intervals, and breaks taken by an employee. Every aspect of the employee is being marked to see how productive, inclusive, as an individual and in teams.
What are the top 5 AI trends to watch out for in Post COVID the scenario of the next one year?
When it comes to AI, the first trend emerging is that AI is not a tool or a technology, but it is now being touted as a strategic imperative for any organization. This means that AI strategies will become an intrinsic part and feature of every organisation.
The second trend is the democratization of AI. There is a possibility of the emergence of an AI marketplace where virtual exchanges related to business problems, demo runs etc. can be conducted. One would actually be able to figure out which algorithm is best for them in customer experience, supply chain etc.
The third trend being the cloud will act as a catalyst for AI proliferation. The propensity for cloud providers to enable AI companies with possible aspects of microservice API's, Product Solutions will be created on the go. This means that the cloud enablers will have options to see various possibilities specific to their organisation when it comes to AI-specific use cases.
The fourth trend is linked to skilling. AI today is a part of a lot of course curriculums. But what is missing is the whole aspect of how does it get applied? The new courseware will be focused on how is AI implemented, adopted in the organization.
The last fifth trend is decision-making enabled by AI, which means humans will have no option but to upskill and reskill themselves to take a more rational, pragmatic and sanguine approach. So new models, new emerging realities of decision making will emerge.
How is AI powering the Future of Work, what are critical considerations for business and tech leaders considering the rapidly changing business dynamics due to COVID?
The future of work will be about AI and what we call AI plus a set of exponential technologies. This means that every aspect of our performance interaction and our responses will be gauged very manually through these technologies. This indicates that the level of performances in terms of how we go up-to-date needs to be worked upon. The future of work is an ecosystem where one particular employer cannot do it all.
This means that if learning must occur through an external player, it must come through the ecosystem of co-employees and the employer. In the future, we will not be caged as mere professionals doing our job but will be encouraged to push our boundaries to explore more at work. At the same time, transformation, innovation, and disruption will be a part of the future's performance metrics. They will become a major parameter for the organization to create a mediocre versus proficient employee or a professional. This is where the onus will fall on the employees to ensure that they are not just doing what is being called out, but are going beyond to create what we call a value creation for the organisation.
About SCIKEY:
SCIKEY Market Network is a Digital Marketplace for Jobs, Work Business solutions, supported by a Professional Network and an integrated Services Ecosystem. It enables enterprises, businesses, job seekers, freelancers, and gig workers around the world. With its online events, learning certifications, assessments, ranking awards, content promotion tools, SaaS solutions for business, a global consulting ecosystem, and more, companies can get the best deals in one place.
'SCIKEY Assured,' a premium managed services offering by SCIKEY, delivers the best outcomes to enterprise customers globally for talent and technology solutions getting delivered offshore, remotely, or on-premise. We are super-proud to be working with some of the world's most iconic Fortune1000 brands.
Better Work. Better Business. Better Life. Better World.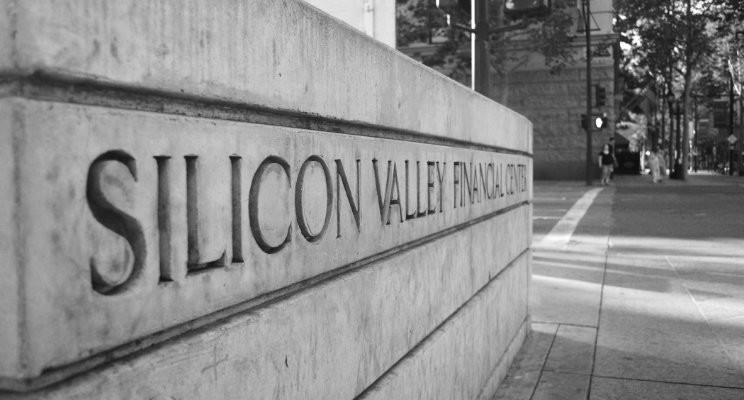 Add Your Heading Text Here The buzzword among the business and tech communities in China for the past year has been 'AI', or artificial intelligence. Artificial intelligence, which allows software to "learn" human ways of thinking, is being incorporated into the largest e-commerce platforms, including Baidu, Alibaba, and Tencent, as well as into data-intensive traditional sectors. With strong government backing and concentrated research in this area, AI is poised to drive China's economy forward toward higher levels of growth.
China is developing artificial intelligence in improving the capabilities of robotics, developing driverless cars, divining consumer preferences, inventory forecasting, selling enhanced products, and marketing goods and services. According to Liu Lihua, Vice Minister of Industry and Information Technology, China has thus far applied for 15,745 AI patents.
China plans to launch a national AI plan, which will strengthen AI development and application, introduce policies to contain risks associated with AI, and work toward international cooperation. The plan will also provide funds to back these endeavors. Some municipalities also support AI research programs. Beijing, for example, is home to the CAS Institute of Automation, a consortium of universities and firms that provides venture capital funding of 1 billion RMB ($150 million) to AI development. Zhejiang province has also embraced AI programs. Already, Geely Automobile in Zhejiang is using intelligent manufacturing and internet marketing services based on AI to boost sales.
BAT – Chinese AI Frontier Giants
China's BAT, or Baidu, Alibaba and Tencent, is leading the way for AI in China. Baidu was the first Chinese company to embark upon research in AI, using a system known as Duer to be used in home devices and driverless cars. Driverless auto software provided by Baidu will be made available to car manufacturers under the Apollo Project. Alibaba is using AI to forecast regional order quantities and to improve logistics efficiency, while Tencent has released a platform for deep learning using social data.
Baidu, Alibaba and Tencent have been vying for top talent in AI in order to become leaders in this area. Making headlines several days ago, Alibaba lured Ren Xiaofeng from Amazon.com to lead its own technology lab, which aims to make headway in artificial intelligence. Tencent brought Baidu's AI expert Zhang Tong on board in March. In 2014, Baidu poached Andrew Ng from the Google Brain project to lead the Baidu Research Institute (though he recently stepped down).
Bay Area dominates this year's AI funding
Venture investment in startups that are applying artificial intelligence or machine learning has more than tripled in the U.S. since 2013, according to PitchBook Data, with about 60 percent of that coming to founders in the Silicon Valley Bay Area.
The Seattle investment research firm put together a ranking of the top 20 AI deals done around the world this year for me while I was researching this week's Silicon Valley Business Journal cover story. Almost half of the startups that were funded and nearly three-quarters of the investors involved were from San Francisco and the Silicon Valley region.
The new era in Silicon Valley centers on artificial intelligence and robots, a transformation that many believe will have a payoff on the scale of the personal computing industry or the commercial internet, two previous generations that spread computing globally. Computers have begun to speak, listen and see, as well as sprout legs, wings and wheels to move unfettered in the world.
Silicon Valley's financiers and entrepreneurs are digging into artificial intelligence with remarkable exuberance. The region now has at least 19 companies designing self-driving cars and trucks, up from a handful five years ago. There are also more than a half-dozen types of mobile robots, including robotic bellhops and aerial drones, being commercialized.
Funding in A.I. start-ups has increased more than fourfold to $681 million in 2015, from $145 million in 2011, according to the market research firm CB Insights. The firm estimates that new investments will reach $1.2 billion this year, up 76 percent from last year.
Even Silicon Valley's biggest social media companies are now getting into artificial intelligence, as are other tech behemoths. Facebook is using A.I. to improve its products. Google will soon compete with Amazon's Echo and Apple's Siri, which are based on A.I., with a device that listens in the home, answers questions and places e-commerce orders. Satya Nadella, Microsoft's chief executive, recently appeared at the Aspen Ideas Conference and called for a partnership between humans and artificial intelligence systems in which machines are designed to augment humans.
The auto industry has also set up camp in the valley to learn how to make cars that can do the driving for you. Both technology and car companies are making claims that increasingly powerful sensors and A.I. software will enable cars to drive themselves with the push of a button as soon as the end of this decade — despite recent Tesla crashes that have raised the question of how quickly human drivers will be completely replaced by the technology.
AI is in it for the long-haul
Whenever there is a new idea, the valley swarms it. But you have to wait for a good idea, and good ideas don't happen every day. Silicon Valley's new A.I. era underscores the region's ability to opportunistically reinvent itself and quickly follow the latest tech trend. This is at the heart of the region's culture that goes all the way back to the Gold Rush. The valley is built on the idea that there is always a way to start over and find a new beginning.