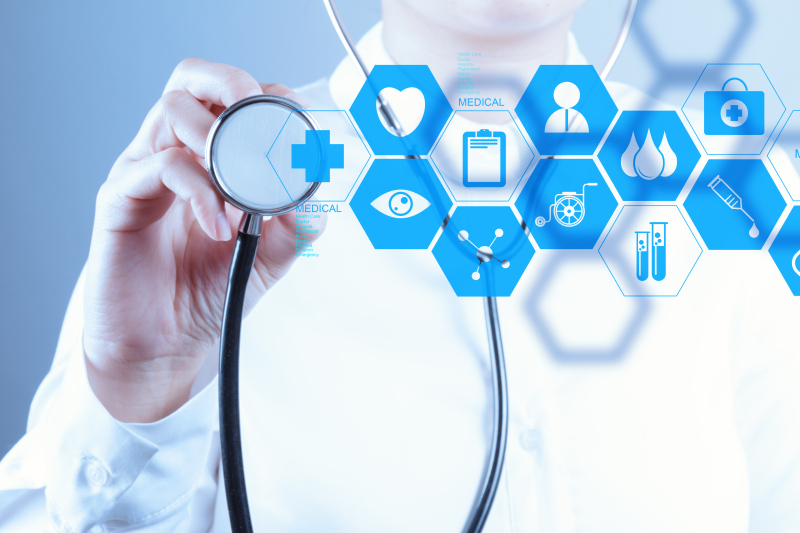 Add Your Heading Text Here In the healthcare industry, what could be more important than having better healthcare outcomes? Each and every day healthcare workers around the globe are striving hard to find more ways of improving our lives. However, the world is changing, and frankly, at a faster rate than most of us can keep up. Intuition alone will no longer be enough for quality patient outcomes. The amount of healthcare data continues to mound every second, making it harder and harder to find any form of helpful information. Big Data is not to be romanticized; it can be a blessing and a curse. It can contribute to both the insight and the fog of visibility.
In truth, data science is proving invaluable to improving outcomes due to its ability to automate so much of the heavy lifting – in fast, scalable, and precise ways. All one has to do is look at our ability to predict epidemics, advance cures, and make patient stays in hospitals safer and more pleasant. In healthcare, data science should be seen as a beneficial intelligence rather than only artificial intelligence, providing an augmentation of services to the healthcare experts already in play.
Hospital Claims Data
In 2010, there were 35.1 million discharges with an average length of stay of 4.8 days according to the National Hospital Discharge Survey. That same survey went on to note that there were 51.4 million procedures performed. The National Hospital Ambulatory Medical Care Survey in 2011 stated the number of outpatient department visits were 125.7 million with 136.3 million emergency department visits. These are some of the basic figures showing the amount of care the U.S. health care system has provided. Using Data Science to annualize this sort of data allows healthcare providers to start building a new intuition built on a data narrative that could possibly help avoid the spread of diseases or address specific health threats. Using a combination of descriptive statistics, exploratory data analysis, and predictive analytics, it becomes relatively easy to identify the most cost-effective treatments for specific ailments and allows for a process to help reduce the number of duplicate or unnecessary treatments. The power in predicting a future state is in using that knowledge to change the behavior patterns of today.
Electronic Health Record (EHR)
Interoperable electronic health records (EHRs) for patient care hold tremendous potential to reduce the growth in costs. EHRs can help healthcare organizations improve chronic disease management, increase operating efficiencies, transform their finances, and improve patient outcomes. However, EHR implementations are in various stages of maturity across the country, and their benefits have not been fully realized. One of the primary challenges healthcare decision-makers face is how to make meaningful use of the data collected, available, and accessible in EHRs.
 By optimizing the use of data accessible in EHRs, we can uncover hidden relationships and identify patterns and trends in this diverse and complex information to improve chronic disease management, increase operating efficiencies, and transform healthcare organizations' finances.
Patient Behavior and Sentiment Data
A study by AMI Research suggests that "wearables" are expected to reach $52 million by 2019. Wearables monitor heart rates, sleep patterns, walking, and much more while providing new dimensions of context, geolocation, behavioral pattern, and biometrics. Combine this with the unstructured "lifestyle" data that comes across social media and you have a potent combination that is more than just numbers and tweets.
It is obvious that we will experience huge benefits from analyzing the in's and out's of healthcare data. In my judgment, we will continue to see a push for prevention over cure which puts predicting outcomes front and center. After all, catching things in the earlier stages is easier to treat and outbreaks can be more easily contained.
It may not resonate as widely today, but in the future we will look back on data science as something significant for healthcare. It is reasonable to expect that we will likely recover more quickly from illness and injury, live longer because of newly discovered drugs, and benefit from more efficient hospital surgeries – and in large part this will be because of how we analyze Big Data.
What makes living in the era of Big Data such a delight is that the healthcare industry is being pressed to find better tools, skills, and techniques to deal competently with the deluge of patient data and its inherent insights? When healthcare makes the choice to fully embrace data science, it will change the future for everyone.
Genomics
Inexpensive DNA sequencing and next-generation genomic technologies are changing the way healthcare providers do business. We now have the ability to map entire DNA sequences and measure tens of thousands of blood components to assess health.
Next-generation genomic technologies allow data scientists to drastically increase the amount of genomic data collected on large study populations. When combined with new informatics approaches that integrate many kinds of data with genomic data in Healthcare applications such as disease research, Prescription Effectiveness etc, we will better understand the genetic bases of drug response and disease. Researchers aim to achieve ultra-personalized healthcare. As a beginning, the FDA has already begun to issue medicine labels that specify different dosages for patients with particular genetic variants.
Predictive Analytics and Preventive Measures
Prevention is always better than cure. For the health-care industry, it also happens to save a lot of money. (The Centers for Medicaid and Medicare Services, for instance, can penalize hospitals that exceed average rates of readmission – indicating that they could be doing more to prevent medical problems.)
Take, for example, the partnership between Mount Sinai Medical Center and former Facebook guru Jeff Hammerbach. Mount Sinai's problem was how to reduce readmission rates. Hammerbach's solution was predictive analytics:
In a pilot study, Hammerbach and his team combined data on disease, past hospital visits and other factors to determine a patient's risk of readmission.
These high-risk patients would then receive regular communication from hospital staff to help them avoid getting sick again.
Sinai isn't alone. In 2008, Texas Health partnered with Healthways to merge and analyze clinical and insurance claims information. Their goal was the same – identify high-risk patients and offer them customized interventions.
Meanwhile, in 2013, data scientists at Methodist Health System are looking at accountable-care organization claims from 14,000 Medicare beneficiaries and 6,000 employees. Their aim? You guessed it. Predict which patients will need high-cost care in the future.
Patient Monitoring and Home Devices
Doctors can do a lot, but they can't follow a patient around every minute of the day. Wearable body sensors – sensors tracking everything from heart rate to testosterone to body water – can.
Sensors are just one way in which medical technology is moving beyond the hospital bed. Home-use, medical monitoring devices and mobile applications are cropping up daily. A scanner to diagnose melanomas? A personal EEG heart monitor? No problem.
These gadgets are designed to help the patient, naturally, but they're also busy harvesting data.
For example:
Asthmapolis's GPS-enabled tracker, already available by 2011, records inhaler usage by asthmatics. This information is collated, analyzed and merged with data on asthma catalysts from the CDC (e.g., high pollen counts in New England) to help doctors learn how best to prevent attacks.
With

 

Ginger.io's

 

mobile application, out in 2012, patients consent to have data about their calls, texts, location and movements monitored. These are combined with data on behavioral health from the NIH and other sources to pinpoint potential problems. Too many late-night phone calls, for instance, might signal a higher risk of anxiety attack.
To improve patient drug compliance, Eliza, a Boston-based company, monitors which types of reminders work on which types of people. Smarter targeting means more compliance.
The Challenges Ahead
There are plenty of hurdles to creating a data-driven health care industry. Some are technical, some emotional. Health care providers have had decades to accumulate paper records, inefficiencies and entrenched routines. A remedy will not be quick.
And some say it shouldn't. At least, not without a hard look at patient privacy, data ownership and the overall direction of U.S. health care.