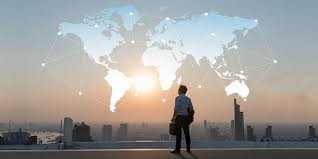 Add Your Heading Text Here In the time of uncertainty and disruption….Soon, organizations will increasingly be competing on the AI prowess and their supremacy. AI promises to play a critical role ; artificial intelligence can detect patterns in complex data sets at extreme speed and scale, enabling dynamic learning. This will allow organizations to constantly adapt to changing realities and surface new opportunities, which will be increasingly important in an uncertain and fast-changing environment.
But for companies to compete on AI, it is not enough to merely adopt AI, which alone can accelerate learning only in individual activities. As with previous transformative technologies, unlocking the full potential of AI and future of workforce will require fundamental organizational innovation , transformation and disruption. Leaders will need to re-invent the enterprise as an AI driven organization :
Velocity & Scale :

 

The growing opportunity and need to perform at high velocity bringing scale driven by AI is well known—algorithmic trading, dynamic pricing, real-time customized product recommendations are already a reality in many businesses. But it is perhaps under-appreciated that slow moving forces are also becoming important. For example, trade institutions, political structures and social attitudes are slowly changing in ways that could have a profound impact on business. Gone are the days when business leaders could focus only on business and treat these broader variables as constants or stable trends. But such shifts unfold over many years or even decades. In order to thrive sustainably, businesses must learn at high velocity .
Rebalancing Humans and Machines equation :

 

Machines have been crucial components of businesses for centuries—but in the AI age, they will likely expand rapidly into what has traditionally been considered white-collar work. Instead of merely executing human-directed and designed processes, machines will be able to learn and adapt, and will therefore have a greatly expanded role in future organizations. Humans will still be indispensable, but their duties will be quite different when complemented or substituted by intelligent machines.
Integrating External ecosystems with corporate strategies :

 

Businesses are increasingly acting in multi company ecosystems

 

that incorporate a wide variety of players. Indeed, seven of the world's largest companies, and many of the most profitable ones, are now platform businesses. Ecosystems greatly expand learning potential: they provide access to exponentially more data, they enable rapid experimentation, and they connect with larger networks of suppliers of customers. Harnessing this potential requires redrawing the boundaries of the enterprise and effectively influencing economic activity beyond the orchestrating company.
Evolving the Organization :

 

The need for dynamic learning does not apply just to customer-facing functions—it also extends to the inner workings of the enterprise. To take advantage of new information and to compete in dynamic, uncertain environments, the organizational context itself needs to be evolve in the face of changing external conditions.
 Today's organizations, which were designed for more stable business environments, are not well-suited to perform these functions. Reinventing the organization for the next decade will require embracing four imperatives:
Integrate AI into the core operating model for survival
Migrate human cognition to mature work spheres
Re balance the relationship between machines and humans.
New age leadership & management approaches
1.Integrate AI into the core operating model for survival : As powerful as today's level of AI is , it will yield only incremental gains if it simply enhance individual steps of existing processes. The effective rate of an organization's learning is gated by its ability to act on new insights. And classical organizations act slowly, owing to their reliance on human decision making and hierarchy. Organizations will need not only to automate but also to "embed AI in to the operating model" of significant parts of their businesses.
In order to truly accelerate the speed of learning to algorithmic timescales, organizations will need not only to automate but also to "embed AI " into significant parts of their businesses. In traditional automation, machines execute a pre-designed process repeatedly and consistently. In AI led transformation, machines use continuous feedback to act, learn, and adapt on their own—without the bottleneck of human intervention.
AI driven systems are designed by combining multiple algorithms into integrated learning loops. Data from digital platforms automatically flows into AI algorithms, which mine the information in real time to facilitate new insights and decisions. These are wired directly into action systems, which continuously optimize outcomes under changing conditions. These actions produce yet more data that can be fed back through the cycle, closing the loop and allowing the organization to learn at the speed of algorithms.
In contrast, traditional organizational approaches—for example, unchanging rules or hierarchical decision processes—can impede companies' ability to harness the rapid learning potential unlocked by AI ; Actions that companies can take to harness AI include :
Gather real-time data on all aspects of the business by leveraging algorithms
Deploy AI at scale, integrated with data and decision-making systems.
Take human hierarchy "out of the loop" of routine, data-based decision making.
2. Migrate Human Cognition to Mature Work Spheres :The widespread adoption of AI naturally raises the question of what role human workers will play in the organization of the future. Today, there is already widespread concern about the speed at which AI will disrupt the future of work. To shape this future—and to maximize organizational learning capabilities—businesses need to focus human cognition on its unique strengths. Humans should increasingly focus their efforts on these higher-level activities. For example, while correlative analysis is generally sufficient for learning about repeated actions on fast timescales, it is less useful for learning about slow-moving forces, such as political, social, and economic trends. These shifts are unique and depend on the historical context and trajectory, which means there is no repeated data set in which to find patterns. Human abilities, such as understanding causal relationships and generalizing from limited data, are necessary to decode these forces and adapt the organization accordingly.
Counterfactual thinking is also critical, as businesses need increasingly to compete on Imagination. Existing business models are being exhausted faster, and long-term growth is declining, which means companies must continually generate new ideas to grow sustainable. But businesses today, which are often implicitly designed for efficiency and the maximization of short run financial outcomes, are not conducive to imagination. Organizations will need to better facilitate individual and collective imagination.
In addition to imagination and making sense of non-repeated events, there will be many other activities where humans are advantaged, including organizational design, algorithmic governance, ethics, and purpose, to name a few. In these domains of human activity, organizations will need to become more effective at dynamic collaboration to get the most out of their teams. This requires emphasizing self-organization and experimentation by creating an organizational context in which responsive decision making and learning can thrive, rather than by relying on direct instructions.
3. Rebalance the Relationship Between Humans and Machines : The first two imperatives call for a hybrid organization, one that combines the comparative advantages of machines and humans: machines' ability to rapidly identify complex patterns in big data and humans' ability to decode complex causal relationships and imagine new possibilities. Together, these will enable the organization to learn on an expanded range of timescales—faster and slower.
But in hybrid organizations, humans and machines will increasingly have to collaborate in new and more effective ways. This includes tasks that require thinking on multiple levels or timescales simultaneously, as well as tasks that demand social interaction, another dimension in which humans are currently far more effective. Organizations will thus need to reimagine the relationship between humans and machines to bring the best out of both and maximize synergies.
 Today's AI models tend to be "black boxes" that are not designed to be interoperable and may therefore impede trust. For these new types of human-machine relationships to succeed, organizations need to develop effective human-machine interfaces that allow for seamless collaboration. Organizations will need to overcome these hurdles by developing and implementing interfaces that provide transparency into how AI makes recommendations, allowing humans to understand and validate machines' actions. Similarly, humans and algorithms are rarely matched for bandwidth and complexity. Choosing the right level of abstraction and compression for communication between humans and computers is critical: too much compression will suppress subtlety and prevent the tinkering through which human innovation proceeds, while too little will overwhelm human overseers.
 4. New Age Leadership & Management Approaches :Collectively, the above imperatives point to a very different way of designing and operating organizations with AI —which in turn will significantly change the role of leadership. In particular, leaders will need to focus on several new challenges.Developing governance principles for AI and autonomous machines. : As machines play a greater part in learning and action, the role of leadership in setting guardrails and priorities will take on greater importance. In the last decade, tech companies could sidestep these topics, as the promise and potential of new technologies gave them a license to move fast. But as social scrutiny of technology increases, questions about governance, trust, and ethics are coming to the forefront. And as AI is adopted more widely, all businesses will have to deal with these difficult questions.
 The organizations that will survive and become pioneer will look much different from today's: they will use different AI driven capabilities; they will operate at different speeds and scales of influence; they will contain different structures and responsibilities; and they will embody different leadership models to enable all of the above. AI will become a force multiplier and will define the DNA of tomorrow's organization.At the end of the day, its a matter of survival….