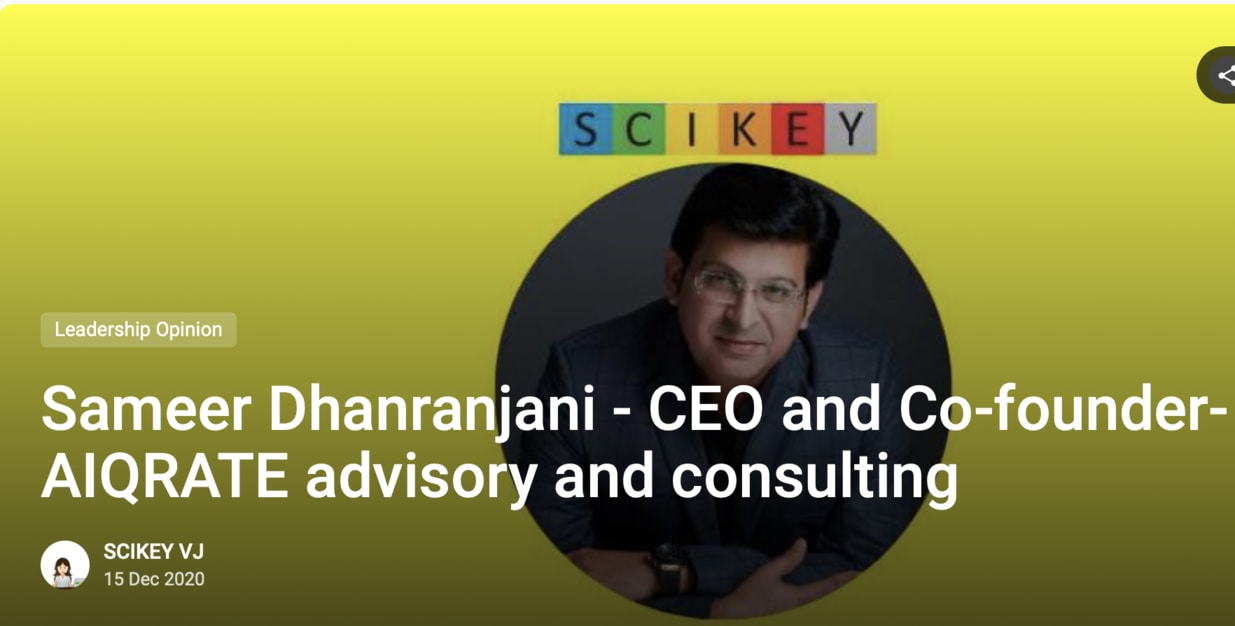 Add Your Heading Text Here In an exclusive interaction with SCIKEY, Sameer Dhanrajani, CEO at AIQRATE Advisory & Consulting, speaks about how the future of work will look like enabled by AI, and it's contribution in building productive teams and the emerging AI trends to watch out for in Post COVID scenario.
"AI led algorithms can decide on how we need to emote, behave, react, transact or interact with an individual," Sameer Dhanranjani
Sameer is a globally recognized AI advisor, business builder, evangelist and thought leader known for his deep knowledge, strategic consulting approaches in AI space. Sameer has consulted with several Fortune 500 global enterprises, Indian corporations , GCCs, startups , SMBs, VC/PE firms, Academic Institutions in driving AI led strategic transformation and innovation strategies. Sameer is a renowned author, columnist, blogger and four times Tedx speaker. He is an author of bestselling book – AI and Analytics: accelerating business decisions.
In an exclusive interaction with SCIKEY, Sameer Dhanranjani, CEO at AIQRATE advisory consulting, speaks about how the future of work will look like enabled by AI, and it's contribution in building productive teams and the emerging AI trends to watch out for in Post COVID scenario.
Mr Dhanranjani, you have consulted with several Fortune 500 enterprises, GCCs also start-ups in driving AI-led strategic transformation strategies. What according to you, are the topmost strategic considerations to weigh for managing accelerating business in Post COVID world for a start-up?
The unprecedented times of COVID-19 have brought the aspect of decision making under consideration. This includes tactical, strategic, and operational decision making that is crucial to make the venture more sustainable. Today the use of artificial intelligence is quite high amongst organizations. It can be used by start-up ventures and other outfits to make decisions irrespective of the area that needs decision making.
Most decisions that need to be made strategically are being passed on to artificial intelligence-enabled interventions. The algorithm makes similar decisions based on the previous decisions taken. Algorithms can decide how we need to emote, behave, react, transact or interact with the opposite individual This advancement in AI brings the challenge for organizations to create products and services specific to each customer through hyper-personalization and micro-segmenting. However, it can also be considered as an opportunity for organizations to emerge from the pandemic with newer business models and experiences for customers. Start-ups, especially, can make use of such advancements to reinvent and rejuvenate the organizational ecosystem.
You are known for your passion for Artificial Intelligence and are an author to the bestselling book – AI and Analytics: Accelerating Business Decisions. Tell us where how can AI be strategically significant while building productive teams.
My experience has led me to deal with engagements in the entire value chain of HR, ranging from hiring to engagement to incentivization that has leveraged using AI. It is phenomenal to see how AI can help build, engage, and sustain productive teams. AI can help in hiring through the detection emotions, facial expressions, tone modulations of the interviewee through computer vision and image classification techniques.
In the creation of productive teams, AI can gauge the engagement levels of an employee. It tries to look at the various interventions made by an employee regarding their attendance, participation in virtual meetings, and propensity to ask and engage themselves in conversations. It also keeps in check the number of pauses, intervals, and breaks taken by an employee. Every aspect of the employee is being marked to see how productive, inclusive, as an individual and in teams.
What are the top 5 AI trends to watch out for in Post COVID the scenario of the next one year?
When it comes to AI, the first trend emerging is that AI is not a tool or a technology, but it is now being touted as a strategic imperative for any organization. This means that AI strategies will become an intrinsic part and feature of every organisation.
The second trend is the democratization of AI. There is a possibility of the emergence of an AI marketplace where virtual exchanges related to business problems, demo runs etc. can be conducted. One would actually be able to figure out which algorithm is best for them in customer experience, supply chain etc.
The third trend being the cloud will act as a catalyst for AI proliferation. The propensity for cloud providers to enable AI companies with possible aspects of microservice API's, Product Solutions will be created on the go. This means that the cloud enablers will have options to see various possibilities specific to their organisation when it comes to AI-specific use cases.
The fourth trend is linked to skilling. AI today is a part of a lot of course curriculums. But what is missing is the whole aspect of how does it get applied? The new courseware will be focused on how is AI implemented, adopted in the organization.
The last fifth trend is decision-making enabled by AI, which means humans will have no option but to upskill and reskill themselves to take a more rational, pragmatic and sanguine approach. So new models, new emerging realities of decision making will emerge.
How is AI powering the Future of Work, what are critical considerations for business and tech leaders considering the rapidly changing business dynamics due to COVID?
The future of work will be about AI and what we call AI plus a set of exponential technologies. This means that every aspect of our performance interaction and our responses will be gauged very manually through these technologies. This indicates that the level of performances in terms of how we go up-to-date needs to be worked upon. The future of work is an ecosystem where one particular employer cannot do it all.
This means that if learning must occur through an external player, it must come through the ecosystem of co-employees and the employer. In the future, we will not be caged as mere professionals doing our job but will be encouraged to push our boundaries to explore more at work. At the same time, transformation, innovation, and disruption will be a part of the future's performance metrics. They will become a major parameter for the organization to create a mediocre versus proficient employee or a professional. This is where the onus will fall on the employees to ensure that they are not just doing what is being called out, but are going beyond to create what we call a value creation for the organisation.
About SCIKEY:
SCIKEY Market Network is a Digital Marketplace for Jobs, Work Business solutions, supported by a Professional Network and an integrated Services Ecosystem. It enables enterprises, businesses, job seekers, freelancers, and gig workers around the world. With its online events, learning certifications, assessments, ranking awards, content promotion tools, SaaS solutions for business, a global consulting ecosystem, and more, companies can get the best deals in one place.
'SCIKEY Assured,' a premium managed services offering by SCIKEY, delivers the best outcomes to enterprise customers globally for talent and technology solutions getting delivered offshore, remotely, or on-premise. We are super-proud to be working with some of the world's most iconic Fortune1000 brands.
Better Work. Better Business. Better Life. Better World.