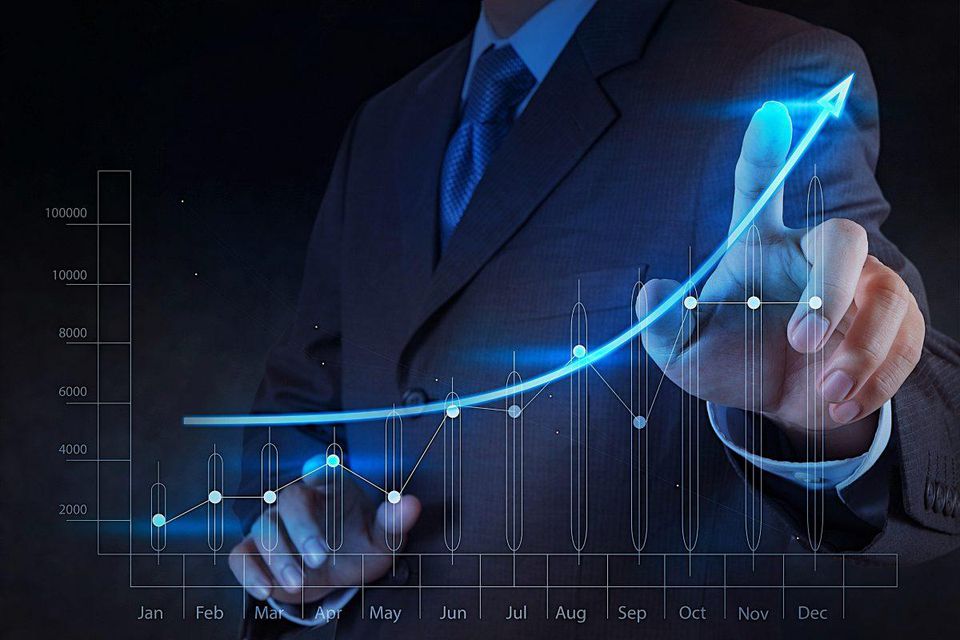 Add Your Heading Text Here As is the case with investments in any other area of technology, AI needs to deliver demonstrable impact to business top line and bottom line. In today's competitive landscape of business, enterprises are expected to measure the incremental ROI for every expense and every investment made – technology or otherwise. The case of Artificial Intelligence is no different. It is critical that technology and business leaders demand ROI impact for this technology in order to foster its growth and justify its proliferation in business.
To be sure, there are two key areas where Artificial Intelligence can contribute immense value; Increasing top line figures by unlocking new revenue streams and improving the bottom line through efficiencies in operations. Needless to say, top line gains eventually percolate their way into showcasing bottom line improvement – but for the purpose of this post, we'll refer to bottom line impact as areas where AI brings in cost efficiencies by helping organizations reduce their overall cost of operations.
Artificial Intelligence driven applications can have a discernible impact on business top lines and bottom lines and help organizations unlock ROI from their implementation.
AI-Powered Topline Growth
Artificial Intelligence-led applications have huge potential to add to top line revenue growth for any organization. Typical AI interventions for this purpose range from improving the effectiveness of marketing and sales functions, improving customer loyalty through laser-guided customer experience initiatives and direct and indirect data monetization.
New Revenue Streams Enabled by Data Monetization:
Business leaders need to realize AI's potential to unlock new sources of revenue in addition to improving customer targeting and loyalty. One of these ways is data monetization. What is data monetization? Simply put, data monetization refers to the act of generating measurable economic benefits from available data resources. According to Gartner, there are two distinct ways in which business leaders can monetize data. The most commonly seen method from the two is Direct Monetization. The way to realize value from this avenue involves directly adding AI as a feature to existing offerings. Companies like Nielsen, D&B, TransUnion, Equifax, Acxiom, Bloomberg and IMS run their business on licensing their data in a raw format or as part of their application infrastructure. With emerging Data-as-a-Service models and the application for direct insight delivery through intelligent application of AI, direct data monetization is simpler than ever. By wrapping insights alongside the data source, vendors can create a symbiotically powerful exchange of information for both the buyers and sellers of data. On the other hand, Indirect Monetization involves embedding AI into traditional business processes with a focus on driving increased revenue. A popular example of this is corporations who come out with branded, paid-for reports based on the data they own. For instance, professional services companies such as Aon, Deloitte, McKinsey, etc., regularly bring forward insightful industry and function-specific reports based on the data they collect as part of their consulting assignments.
Enabling Intelligent Marketing and Sales
Many of the most prominently cited successes of AI-enabled business transformation comes from the marketing and sales arena. Sales and marketing are constantly on the forefront for exciting inventions in AI since they contribute directly to top line growth. Use cases discovered in this arena span social media sentiment mining, programmatic selection of advertising properties, measuring effectiveness of marketing programs, ensuring customer loyalty and intelligent sales recommendations. AI also has huge potential to drive businesses to explore and exploit eCommerce platforms as a credible channel for sales and to help drive the digital agenda forward. Available tools are helping drive better customer conversions on eCommerce properties – by analysing the digital footprints (clickstream, etc.) of prospective customers, persuading them into making a purchase. In such use cases, AI helps improve personalization at the point-of-purchase, improve conversions and reduce cart abandonment. Marketing and sales use cases today are pretty much at the epicentre of an AI disruption and business leaders need to uncover more use cases that can help drive effective top line growth.
AI Redefining Customer Experience
Customers are the epicentre of every successful organization. Today, we live in times where customers have numerous competitor options to choose from while the switching costs for customers are increasingly lower. Given this scenario, for businesses to win with their customers they need to have a smarter approach to customer experience management.
We have progressed well beyond pre-programmed bots addressing frequently asked questions. AI-enabled systems today go further and provide customers with personalized guidance. The travel and hospitality industries, for instance, are ripe for such disruptive innovations. In many cases, we see chatbots that help customers identify and recommend interesting activities and events that tourists can avail. When applied with human creativity, AI can ensure this redefined understanding of customer experience, while maintaining a lower cost of delivering that experience.
AI for Improving Bottom Line Performance
At an operational level as well, AI can help organizations run a more efficient business. For instance, corporations across industries need to find innovative and fail-safe ways to reduce the cost of manufacturing as well as capping their outlay on the supply chain network. AI-centric solutions can drive down the turnaround time for talent acquisition and transform other facets of the Human Capital function too.
AI Driving Operational Efficiencies
Traditional manufacturing processes are now increasingly augmented by robotics and AI. These technologies are bringing increasing sophistication to the manufacturing process. The successes combine human and machine intelligence making AI-augmented manufacturing a pervasive phenomenon. Today, business leaders in the Industry 4.0 generation need to seriously consider planning a hybrid labour force powered by human and artificial intelligence – and ensure that the two coexist by implementing the right policies and plans in place.
Smarter Supply Chains Powered by AI
Orchestrating a leaner, more predictable supply chain is ripe for an AI-led disruption. We are witnessing not just new products and categories but also new formats of retailers proliferating the industry. This varied portfolio of offerings and channels requires corporations to manage their outlay efficiently on the overall network responsible for the network that manages the entire process from procurement and assembly to stocking and last mile delivery. Multiple use cases exist that leverage multi-source data from internal and external repositories, combining them with information from IOT sensors. AI algorithms are then applied over this combined data infrastructure with the objective of helping business users quickly identify possible weaknesses/flaws in the process such as delays and possible shortages. Business leaders are constantly on the lookout for solutions that can directly lift their bottom line by bringing in more intelligence and automation to their supply chain networks – thus unlocking savings for their businesses.
An Artificial Facelift for the Human Resources Function
The human resources function has historically been considered a cost-center in organizations. In addition to bringing down the costs associated with talent acquisition and management – AI would also help HR teams become leaner, more organized and reduce the turnaround time for talent acquisition. AI interventions are being seen in the areas of employee engagement and attrition management, but some of the most exciting use cases come from the talent acquisition area within the HR function. Multiple organizations are already working on solutions that can eliminate the need for HR staff to scan through each job application individually. By using AI intelligently, talent acquisition teams can determine the framework conditions for a job on offer and leave the creation of assessment tasks to Artificial Intelligence-powered systems. The AI-empowered system can then communicate the evaluation results and recommend the most suitable candidates for further interview rounds.
One of the key reasons why AI is in vogue today is the demonstrable ROI impact that it promises to bring to business processes. With greater computational power and more data, AI has become more practicable than before, but what will sustain its growth is how much incremental value it can eventually unlock for businesses across the globe and power new revenue models for businesses to tap into. It is critical that business and technology leaders earnestly kick off discussions around how to justify the impact of AI and mark down the key metrics that will be used to measure it. Partners and service providers too need to stay on top of finding ways to showcase measurable improvements that their software or services can bring to technology buyers. This will enable the entire AI ecosystem to flourish.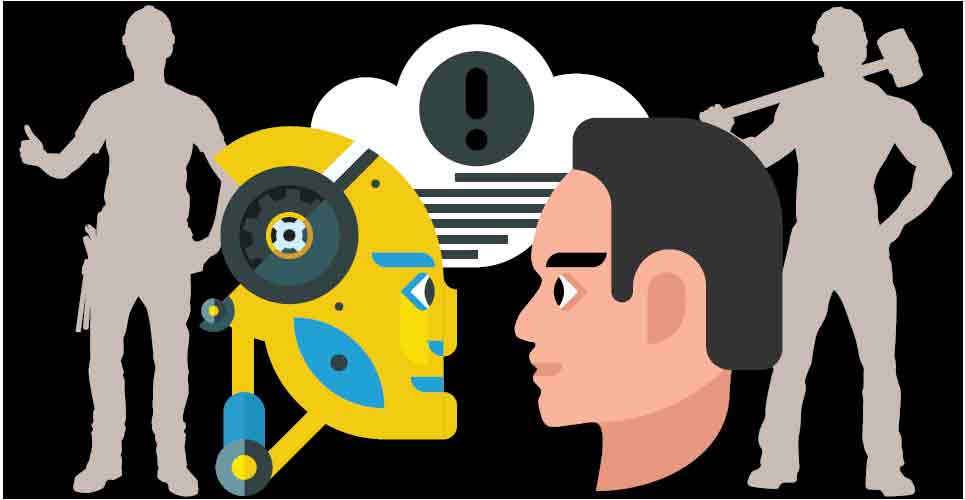 Add Your Heading Text Here A robust ecosystem for small and medium enterprises is one of the key indicators of economic vibrancy and entrepreneurial energy in a nation. India's entrepreneurial spirit was given a massive boost after liberalisation in the early 90s. These norms ended the draconian 'Licence Raj' that kept the lid on the business aspirations of the average Indian. With improving access to capital, heightened ease of doing business and a galvanised ecosystem that provides mentorship and guidance to fledgling startup founders, the small and medium enterprise (SME) sector has been riding high over the past couple of decades. Now with Artificial Intelligence (AI) in the mix, SMEs will be given another boost – through reduced cost and improved efficiencies in how they run, operate and succeed.
There is no doubt that AI will be an important gamechanger for the SME sector. Startups today are much more data-rich than before and understand the value that can be unlocked through intelligent deployment of advanced analytics. They understand that a data-driven understanding of their business landscape will far outweigh heuristic methods in the dynamic environment in which their enterprises operate. Further, with lowering cost of adoption, increased focus on the SME industry by incumbent analytics/AI vendors and partners, we have a perfect storm of sorts for the sector to derive the exponential benefits of this technology. Let us look at the areas where AI can deliver a strong, demonstrable impact on the sector and how such businesses can get started on their AI journey.
Galvanising SME Operations
When run on the right data set, AI can work its magic in providing untold operational benefits to SMEs. The case for AI in the startup sector is much stronger than it is for their larger corporate counterparts. The reasons for that are two-fold. First, startups typically operate on smaller budgets – which means that they need to automate as much as they can to reduce costs associated with a higher headcount.
Secondly, startups by their very nature are extremely nimble, allowing them to experiment rapidly with new, innovative technologies. This twofold advantage means that AI vendors as SMEs need to have a robust strategy in place to work together and uncover the latent advantages offered by this technology. Here are a few areas where AI can specifically help startups galvanise their operations.
• Predictive maintenance: SMEs, especially in the manufacturing segment, can unlock huge benefits in the production process using AI. With sophisticated algorithms monitoring machine health, AI can help reduce the downtime in production schedules by accurately modelling when a critical machine is likely to go down, allowing businesses to better plan demand fulfilment.
• Supply chain and logistics: A major drain on the revenue of nascent businesses is the cost associated with procurement of raw materials and delivery of finished products. By using AI and third-party location data, SMEs can plug this drain by powering faster and leaner delivery schedules. Similarly, demand planning and order fulfilment will get a big boost as SMEs learn how to forecast accurately through machine learning models, thus reducing the waste that entails unused, unsold and unutilised inventory.
• Marketing and sales: Multiple SMEs tend to go under because they take on much large corporations with massive sales and marketing budgets. AI can help these startups level the playing field. By using data from each prospect interactions as well as leveraging emerging breakthroughs in the field of programmatic advertising, AI can help fine-tune the marketing programs of startups and help deliver better ROI on their spend. Similarly, through an improved understanding of their territory, AI can provide laser-guided focus to sales people on which prospects to focus on and what approaches can deliver the best results.
• Customer service: Where large enterprises can afford to outsource customer service operations or even bring them in-house, SMEs do not have these advantages. In today's environment, customers are shown to be more loyal when provided with a superior customer experience. AI can bridge the gap between customer expectations and the constrained budgets available to provide those. With intelligent assistants, SMEs can navigate common questions and complaints put forth by customers and provide a superior customer service at much lowered costs of delivery.
• Talent acquisition: SMEs often have vastly varying needs for talent. For instance, those that are on a strong growth trajectory need to staff their companies rapidly before the competitive advantage they offer slips. Those that are on a slower curve also need to make sure that they hire candidates with the right mix of experience and attitudinal attributes to ensure the smooth functioning of their business.
AI can help reduce the time taken to identify the right candidates by rapidly screening resumes to identify the best fit for the needs of the business. Further, with the right data and training, AI can also administer relevant tests to candidates and grade their performance, thus reducing the requirement of human intervention and time taken to screen good candidates.
Getting Started
Let us look at some of the key factors that business leaders need to keep in mind as they get started on their AI journey.
• AI starts with data: The first consideration before planning an AI intervention is to understand whether high quality data is available for AI to work its magic. Without the right data sets, even the best algorithms can go awry. It is essential that business leaders ensure that their data repositories are sufficiently rich to get started on the AI journey.
• Identify the right problems: SMEs tend to be inundated with multiple issues of burning importance. It can be very enticing for business leaders to assume that AI is the panacea for all problems. That is not the case. Business leaders need to identify the right problem statements where AI can make a demonstrable impact and prioritise use cases that can be solved through AI. Scan the market for best practices and learn from peers to better understand what AI can do and what measurable benefit you can derive from AI-led interventions
• Set success benchmarks: For AI leaders, it is important to set a marker for the right expectations with business leaders. Hence, for the business to see continuous improvement in the results delivered by AI, it is critical to identify the right set of business metrics and expected performance against each of those.
Artificial Intelligence today has gone well beyond experimentation to now becoming a real game-changer in how businesses operate. AI can bring significant benefits to startups with improved efficiencies and faster operations. SME leaders looking for strong competitive advantages with respect to their peers would do well to harness the power of this technology and infuse it into their key business process to accelerate outcomes and grow their businesses.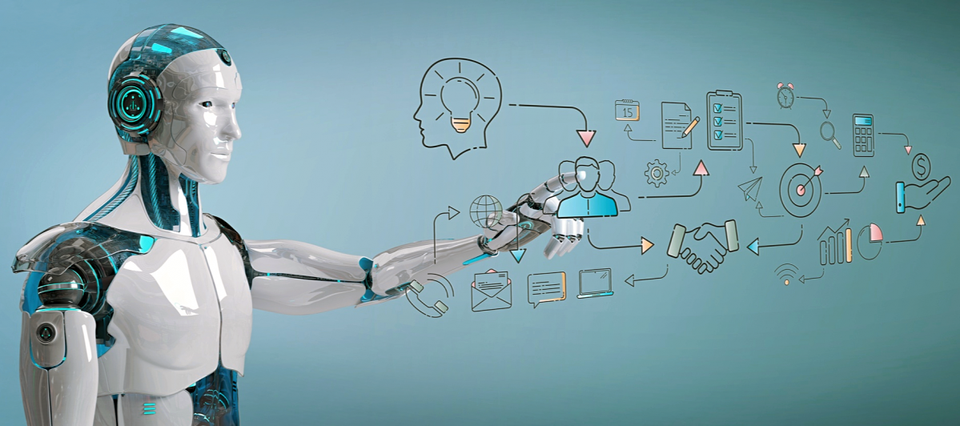 Add Your Heading Text Here The excitement around artificial intelligence is palpable. It seems that not a day goes by without one of the giants in the industry coming out with a breakthrough application of this technology, or a new nuance is added to the overall body of knowledge. Horizontal and industry-specific use cases of AI abound and there is always something exciting around the corner every single day.
However, with the keen interest from global leaders of multinational corporations, the conversation is shifting towards having a strategic agenda for AI in the enterprise. Business heads are less interested in topical experiments and minuscule productivity gains made in the short term. They are more keen to understand the impact of AI in their areas of work from a long-term standpoint. Perhaps the most important question that they want to see answered is – what will my new AI-enabled enterprise look like?
The question is as strategic as it is pertinent. For business leaders, the most important issues are – improving shareholder returns and ensuring a productive workforce – as part of running a sustainable, future-ready business. Artificial intelligence may be the breakout technology of our time, but business leaders are more occupied with trying to understand just how this technology can usher in a new era of their business, how it is expected to upend existing business value chains, unlock new revenue streams, and deliver improved efficiencies in cost outlays. In this article, let us try to answer these questions.
AI is Disrupting Existing Value Chains
Ever since Michael Porter first expounded on the concept in his best-selling book, Competitive Advantage: Creating and Sustaining Superior Performance, the concept of the value chain has gained great currency in the minds of business leaders globally. The idea behind the value chain was to map out the interlinkages between the primary activities that work together to conceptualize and bring a product / service to market (R&D, manufacturing, supply chain, marketing, etc.), as well as the role played by support activities performed by other internal functions (finance, HR, IT etc.). Strategy leaders globally leverage the concept of value chains to improve business planning, identify new possibilities for improving business efficiency and exploit potential areas for new growth.
Now with AI entering the fray, we might see new vistas in the existing value chains of multinational corporations. For instance:
Manufacturing

 

is becoming heavily augmented by artificial intelligence and robotics. We are seeing these technologies getting a stronger foothold across processes requiring increasing sophistication. Business leaders need to now seriously consider workforce planning for a labor force that consists both human and artificial workers at their manufacturing units. Due attention should also be paid in ensuring that both coexist in a symbiotic and complementary manner.

Logistics and Delivery

 

are two other areas where we are seeing a steady growth in the use of artificial intelligence. Demand planning and fulfilment through AI has already reached a high level of sophistication at most retailers. Now Amazon – which handles some of the largest and most complex logistics networks in the world – is in advanced stages of bringing in unmanned aerial vehicles (drones) for deliveries through their Amazon Prime Air program. Business leaders expect outcomes to range from increased customer satisfaction (through faster deliveries) and reduction in costs for the delivery process.
Marketing

 

and Sales

 

are constantly on the forefront for some of the most exciting inventions in AI. One of the most recent and evolved applications of AI is Reactful. A tool developed for eCommerce properties, Reactful helps drive better customer conversions by analyzing the clickstream and digital footprints of people who are on web properties and persuades them into making a purchase. Business leaders need to explore new ideas such as this that can help drive meaningful engagement and top line growth through these new AI-powered tools.

AI is Enabling New Revenue Streams

The second way business leaders are thinking strategically around AI is for its potential to unlock new sources of revenue. Earlier, functions such as internal IT were seen as a cost center. In today's world, due to the cost and competitive pressure, areas of the business which were traditionally considered to be cost centers are require to reinvent themselves into revenue and profit centers. The expectation from AI is no different. There is a need to justify the investments made in this technology – and find a way for it to unlock new streams of revenue in traditional organizations. Here are two key ways in which business leaders can monetize AI:

Indirect Monetization

 

is one of the forms of leveraging AI to unlock new revenue streams. It involves embedding AI into traditional business processes with a focus on driving increased revenue. We hear of multiple companies from Amazon to Google that use AI-powered recommendation engines to drive incremental revenue through intelligent recommendations and smarter bundling. The action item for business leaders is to engage stakeholders across the enterprise to identify areas where AI can be deeply ingrained within tech properties to drive incremental revenue.
Direct Monetization

 

involves directly adding AI as a feature to existing offerings. Examples abound in this area – from Salesforce bringing in Einstein into their platform as an AI-centric service to cloud infrastructure providers such as Amazon and Microsoft adding AI capabilities into their cloud offerings. Business leaders should brainstorm about how AI augments their core value proposition and how it can be added into their existing product stack.

AI is Bringing Improved Efficiencies

The third critical intervention for a new AI-enabled enterprise is bringing to the fore a more cost-effective business. Numerous topical and early-stage experiments with AI have brought interesting success for reducing the total cost of doing business. Now is the time to create a strategic roadmap for these efficiency-led interventions and quantitatively measure their impact to business. Some food for thought for business leaders include:

Supply Chain Optimization

 

is an area that is ripe for AI-led disruption. With increasing varieties of products and categories and new virtual retailers arriving on the scene, there is a need for companies to reduce their outlay on the network that procures and delivers goods to consumers. One example of AI augmenting the supply chain function comes from Evertracker – a Hamburg-based startup. By leveraging IOT sensors and AI, they help their customers identify weaknesses such as delays and possible shortages early, basing their analysis on internal and external data. Business leaders should scout for solutions such as these that rely on data to identify possible tweaks in the supply chain network that can unlock savings for their enterprises.
Human Resources

 

is another area where AI-centric solutions can be extremely valuable to drive down the turnaround time for talent acquisition. One such solution is developed by Recualizer – which reduces the need for HR staff to scan through each job application individually. With this tool, talent acquisition teams need to first determine the framework conditions for a job on offer, while leaving the creation of assessment tasks to the artificial intelligence system. The system then communicates the evaluation results and recommends the most suitable candidates for further interview rounds. Business leaders should identify such game-changing solutions that can make their recruitment much more streamlined – especially if they receive a high number of applications.
The

 

Customer Experience

 

arena also throws up very exciting AI use cases. We have now gone well beyond just bots answering frequently asked questions. Today, AI-enabled systems can also provide personalized guidance to customers that can help organizations level-up on their customer experience, while maintaining a lower cost of delivering that experience. Booking.com is a case in point. Their chatbot helps customers identify interesting activities and events that they can avail of at their travel destinations. Business leaders should explore such applications that provide the double advantage of improving customer experience, while maintaining strong bottom-line performance.

The possibilities for the new AI-enabled enterprises are as exciting as they are varied. The ideas shared in this article are by no means exhaustive, but hopefully seed in interesting ideas for powering improved business performance. Strategy leaders and business heads need to consider how their AI-led businesses can help disrupt their existing value chains for the better, and unlock new ideas for improving bottom-line and top-line performance. This will usher in a new era of the enterprise, enabled by AI.