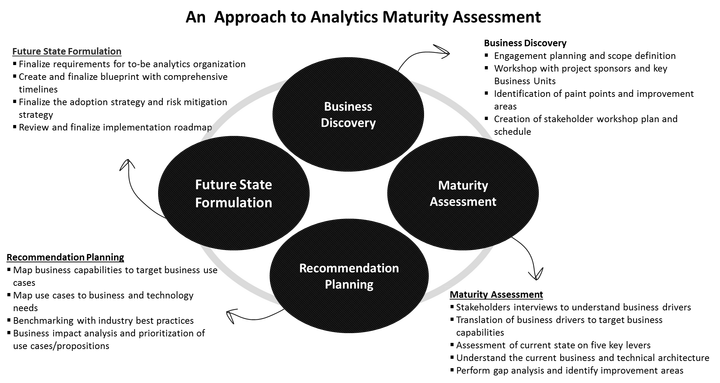 Add Your Heading Text Here Imagine a Lamborghini or Ferrari or any car of your choice for that matter, with a fantastic engine parked in the garage, you'd love to get your hands on the wheel, wouldn't you? After all, it makes no sense to invest so heavily in such a mean machine and yet leave it hidden under a wrap, right? Think of the Data sitting inside the organizations as the great, potential "engine"; an invaluable asset which remains elusive most of the times, well, pretty much in storage, as most CXO's agree that they're not doing nearly enough to maximize the use of effective analytics to unleash the potential of dark data they are sitting on. The future belongs to those organizations that effectively employ analytics to understand their markets, customers and operations. Forward-thinking organizations recognize that data is becoming the new source of competitive advantage, and organizations are re-thinking value creation and investing in new analytics infrastructure. In fact, data analytics is routinely cited by CXO's as among their top one or two priorities year after year. Companies are already making use of data to advance a variety of business goals and to help consumers. Few of the leading organizations who are pioneering in this space of harnessing data for business value (like Facebook, Google, LinkedIn, and Amazon have) shown the world what is possible when data is used to its truest potential in cutting-edge ways, and the idea that enterprises must recommit themselves to become data-driven is now a widely held notion. While many companies have excelled in the use of data analytics and predictive modeling, data-driven decision-making is no slam-dunk. Several companies are struggling to make data-driven decision-making part of their DNA.
Across industries, "Big Data" and Analytics are helping businesses to become smarter, more productive, and better at making predictions. Organizations today are collecting increasing amounts of disparate data. In fact, they are collecting more data than they can manage or analyze; which means most of the data being collected is underutilized. Yet, organizations understand and know that data and data analysis can provide an important strategic competitive advantage. Businesses today are under extreme pressure and face significant challenges to reduce overall costs, improve outcomes, adapt to new technologies, comply with strict regulatory restrictions and face the ever increasing power of the consumer. Organizations agree that building analytics competency can and will drive improved delivery outcomes, quality and cost leveraging the "power" of data. Best in class organizations are adopting analytics to drive decision making, improve outcomes, increase member loyalty/ retention, reduce unnecessary costs, and increase accountability.
Organizations that know where they stand on the analytics maturity continuum are better prepared to turn challenges into opportunities. By performing their current state assessment and building an enterprise value roadmap for analytics adoption, organizations can define the "best way forward" to completely engage a data-driven culture. Tapping this potential for your organization begins with shaping a plan. You have to set a strategy; draw a detailed road map for investing in assets such as technology, tools, and data sets; and tackle the intrinsic challenges of securing leadership buy-in, reinventing processes, and changing organizational behavior. Analytics is not just about generating insights, but getting those insights to the right people. To sustain the long-term success of data-driven innovation, it is necessary to continually revise one's analytical approach in order to generate insights that lead to new innovation and competitive advantage.
The first stepping stone in the direction or crafting a robust data strategy starts with doing a comprehensive Analytics Maturity Assessment exercise. Inherent question which crosses our minds is, "Why Analytics Maturity Assessment"?
Need for Analytics Maturity Assessment
The most critical aspect to any organization is to leverage true benefit of data, decipher where they are today, where they've been in the past, the progression curve and a direction where they intend to go in the future based on data/information available at their disposal
By leveraging maturity assessment framework, organizations can measure the current maturity of the data (how good is it to perform analysis) and the overall analytics program in an objective way across various dimensions that are key to deriving accelerated value from data
Uncover how their data efforts stand in comparison to those of their peers in order to ensure best-in-class insight and support, and ensure we are in tune with the contemporary market trends
The assessment shall also render guidance to companies at the cusp of starting their data journey, by helping them understand industry best practices used by companies across geos, of different sizes & even from industries that are more mature in their deployments
After performing the benchmark study, organizations will be able to quantify the maturity of their deployment in an objective way, understand the progress, and identify what it takes to graduate to the next level of maturity
Key Challenges impeding Analytics Proliferation
Organizations want to leverage data analytics but face challenges while trying to formulate a strategy around it due to:
Lack of Vision

Business leadership doesn't have a defined corporate strategy to drive data driven culture
No vision on how to embed analytics into the decision making process

Disparate Data Sources

Data stored in silos across departments
Many different types of data sources
Large amount of data generated

Talent Crunch

Lack of people with Domain knowledge as well as business analytics expertise
Lack of people with knowledge of varied data types and tools to integrate, process and develop insights

Resource Availability

Lack of resources to quickly turn around on-demand analytics
Low bandwidth with IT resources to provide near real time information
Maturity Assessment Guiding Principles
In order to ensure your Analytics Maturity Assessment exercise in worth the time & effort, a few guiding principles would come in handy.
Data aggregation across multiple data sources: Analytics needs to gather the information from multiple sources across business/ functional areas
Blending existing and new data:

 

Analytics should be capable to use the existing data that is available inside the organization and utilize with the new data outside the organization (social, market research, surveys, competition etc)
Business user friendly:

 

Analytics should be understandable to all relevant stakeholders intended to be consuming the insights
Predictive Analytics:

 

Analytics must provide the anticipative/predictive model and should also support "what-if" analysis for different scenarios
Scalability and Flexibility:

 

Analytics should be able to get customized but at the same time should be scalable and extensible for future needs
Real-time Analytics Tools/Services:

 

Analytics should be using tools to quickly process the data and translate that into actionable insight
Key Levers impacting Analytics Usage & Adoption
For any organization's expectations and aspirations, and the current state of analytics takeoff primarily banks on the following five key levers. Key stakeholders who shall be impacted (including CXO's & Senior Managers) need to be included as part of the assessment workshop where appropriate brainstorming needs to happen on existing challenges being face by business, current maturity of Analytics usage across departments/functions, thorough deep-dive into use cases where analytics consumers share their experiences of how they see analytics as a key ingredient to value creation in LOB's or departments under their ambit.
People

Identifying key stakeholders
Carving out roles/responsibilities
Talent needs
Change management
Training requirements
Analytics skills & competencies
Data

Data sources & management
Data integration & accessibility
Data Infrastructure
Aligning data sources to use cases
Tools/tech/platforms requirement
Data maturity
Vision

Analytics vision and goals
Assessment of key BU's vision
Analysing business drivers & needs
Executive Sponsorship
Business readiness
Top down buy-in for analytics uptake
Accountability and ownership
Process

Streamline existing analytics, reporting and operational processes
Identification of modelling approaches required
Benchmarking to best practices
Mapping information needs
Monitoring and refresh
Ongoing Improvement

Governance, Risk and compliance
Improvement Process & Analysis Methodology
Data and systems governance
Documenting and reporting distribution needs
Identification of future investment areas
In the next edition to this data strategy blog, I shall be touching upon the key stages an organization goes through as it matures along the analytics adoption curve, core design principles to execute a successful data monetization strategy, and key data and analytics transformation dimensions to choose the ideal business model(s). Stay tuned !